Trudi Bennett - Boots, glorious boots
Author

Section

Publish Date

Thursday, 20 July 2017, 11:18AM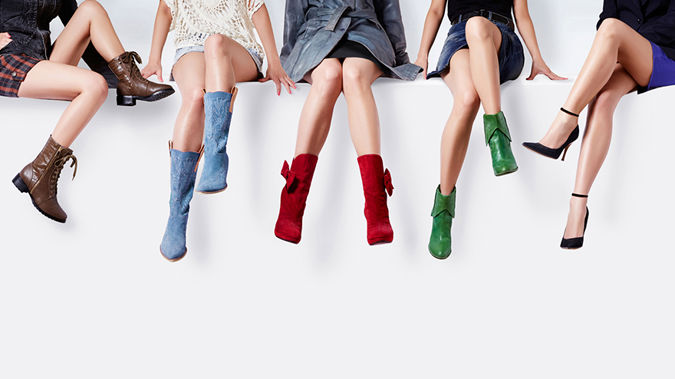 Boots glorious boots! One of my favourite winter things is being able to put on a variety of pairs. Whether it's ankle boots or knee highs, there really is a set to suit everyone. Factors to take into account when selecting your boots this season include your height and let's not forget the functionality of the boots. No point running/hobbling around in very high boots if you do a lot of walking and after an hour they are no longer comfortable. Comfort and style CAN go hand in hand. Especially this season with the array of heels on boots.
I mentioned your height, so let's discuss all your options based on how tall you are. The good news is, anyone of any height can wear flat or ankle boots. It's just about HOW you wear them. For instance, if you feel vertically challenged and would love a pair of ankle boots to wear with skirts or dresses - but fear your legs or height might be affected - make sure your tights/stockings or leggings are of a similar colour and tone to the boots. This way you get a nice, elongating flow down your legs, inclusive of your boots. The easiest and most popular way of doing this is black tights and black ankle boots. Ankle boots can also obviously also be worn with work trousers and jeans.
I personally have many pairs of knee-high boots. I love them for their versatility. Wear them under jeans and work trousers, with a skirt and a winter merino dress. They go with most styling combinations, however the 'boots over skinny jeans' look is one we need to say goodbye to.
If you feel a heel suits you better but do want that comfort, consider a block heel. It's a great way of ticking all the boxes. You get added height, but the comfort of a boot that feels flat and sturdy do to the size of the heel. They also come in all heights and ranges.
Another exciting development in recent years with winter footwear has been the popularity of coloured boots and shoes. We are no longer confined to black or brown. There is often a couple of red pairs and this season I see lots of fun metallics (goes with everything) and some glorious plum and forest green versions. There are lots of zip detail too this season which is heaps of fun.
So please go ahead and enjoy the plethora of winter boots out this season. Remember the saying goes "There are two things you can never have too many of; good friends and good shoes."
Check out www.wardrobeflair.com for all your personal styling needs, including accessories! We have offices in both Auckland and Wellington and can help you with corporate events, personal styling, wardrobe revamps and shopping. www.facebook.com/wardrobeflair for more helpful hints or check out www.instagram.com/wardrobeflair_personal_styling
About Trudi
Trudi Bennett set up her personal style consultancy Wardrobe Flair in 2005 after discovering a huge market of men and women unhappy with their personal and professional wardrobe and image. Her focus was to give people the tools to make wise, logical styling and shopping decisions, based on their body, budget and lifestyle.

Trudi is a motivational speaker at workshops, seminars and conferences all around NZ sharing her personal styling hints and tips in a humorous and engaging way.

Trudi's main passion is to help people feel as confident as possible. She is most proud of her work when she knows her clients' realise anyone of any shape, size or profession can look and feel fantastic.