Trudi Bennett - Brilliant Bell Sleeves
Author

Section

Publish Date

Thursday, 27 July 2017, 12:23PM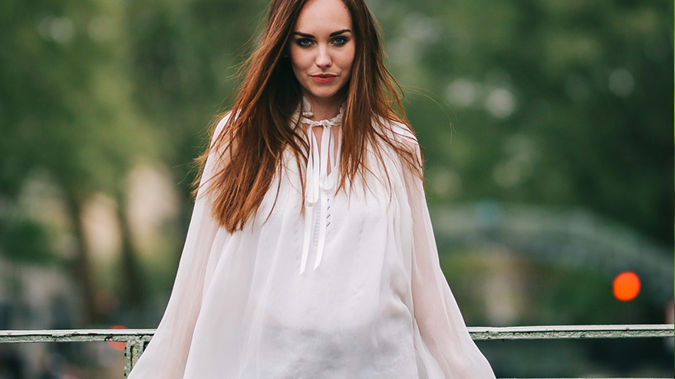 I can't attest to you wearing your heart on your sleeve but I can tell you that you may be wearing an interesting sleeve this winter season. I just love this season's bell sleeve trend! Let's talk through the do's and don'ts as I put my practical styling hat on. But first a run down on what a bell sleeve actually is!
A bell sleeve is fitted on the shoulder and flaring out wide toward the wrist. Like I mentioned in a previous blog talking about the velvet revolution coming back, the old way of wearing bell sleeves was also a very hippy and bohemian look that is decades old. However, this season's look is modern and utterly chic. I'm seeing it on sleek dresses and cool tops and simple knits.
I love how bell sleeves add a unique splash of fashion to even the simplest of outfits. The key to wearing them is to keep everything else quite simple and let your sleeves to the talking. I've seen some really pretty, simple tops, with a gorgeous ¾ bell sleeve detail from all different stores, including designer and mainstream.
Now let's talk about the main thing to look out for when buying bell sleeves? The length of the sleeve in conjunction with your arm length. If your arms are not the longest in the world, please make sure you try the item of clothing on or you may be dragging those pretty sleeves through every meal you have! Or dunking them in coffee or scrabbling to pick things up with your fingers getting tangled in the fabric. Many of this seasons sleeve lengths are LONG, so be warned and look out for them.
So go forth and enjoy this trend whilst keeping the length of your bell sleeve at functional at all times. This style is one that every age, size and profession can wear and enjoy. Which for me, makes it a great trend.
If you need help with your styling, don't hesitate to check out www.wardrobeflair.com We have styling packages ranging from $239-299 for 2 hours -  we make a great birthday gift!  You can also pick up heaps of hints and tips on www.facebook.com/wardrobeflair or www.instagram.com/wardrobeflair_personal_styling
About Trudi
Trudi Bennett set up her personal style consultancy Wardrobe Flair in 2005 after discovering a huge market of men and women unhappy with their personal and professional wardrobe and image. Her focus was to give people the tools to make wise, logical styling and shopping decisions, based on their body, budget and lifestyle.

Trudi is a motivational speaker at workshops, seminars and conferences all around NZ sharing her personal styling hints and tips in a humorous and engaging way.

Trudi's main passion is to help people feel as confident as possible. She is most proud of her work when she knows her clients' realise anyone of any shape, size or profession can look and feel fantastic.