Sir Colin Meads turns up for a very prestigious occasion
Section

Publish Date

Monday, 19 June 2017, 5:54PM
Sir Colin Meads received a standing ovation as the impressive 2.7 metre bronze sculpture was unveiled by the man himself and his brother Stan.
As a pale and proud Meads stood in front of the monument - the similarities between him and a younger fitter Meads were clear.
Following the unveiling Meads apologised to the large crowd for not being "as fit as he used to be".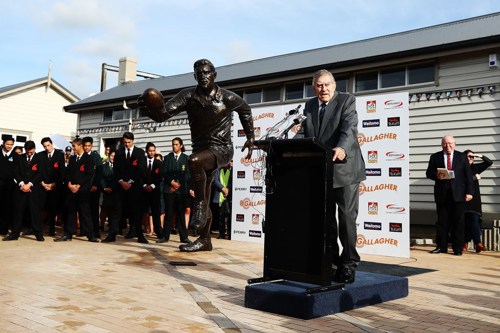 Meads said he would not be able to have too many beers at the after function, "but I will try to have a few".
He admitted to originally thinking the statue was ridiculous, but was now proud to see it come to fruition.
"There's nothing much one can say on an occasion like this."
But he added that he was humbled and honoured.
Stan, who described himself as the tail behind the dog, said he thought the sculpture looked great and was a good likeness to Pinetree in his playing days.
"He's a bloody good bugger," he said of his older brother.
He said they now had Meadsville blood in their veins.
This article was first published on nzherald.co.nz and is republished here with permission.