William's surprise visit to 6y/o cancer patient
Section

News,

Publish Date

Wednesday, 17 May 2017, 11:25AM
Prince William today evoked memories of his late mother Diana as he bonded with a young cancer patient on a visit to the Royal Marsden Hospital in Sutton.
The Duke of Cambridge showed his caring bedside manner when he helped take the blood pressure of leukaemia patient Daisy Wood, 6, who was happy to let the future king strap a cuff to her arm in preparation for the reading, the Daily Mail reported.
In the Oak Centre for Children and Young People the Duke sat beside Daisy, who moments before was watching a DVD about a princess, with parents Katie and Alistair Wood from Kingston upon Thames nearby,
Her father later joked: "She did say William was a little old for her to marry."
The 6-year-old was a little tongue-tied after her meeting with the Duke but Alistair Wood, 45, added: "It's particularly nice he's come around, it shows he's interested in the Royal Marsden and the patients - it gives a boost to everyone.
"And being a dad with two young children you can see how he relates very well to the children."
The Duke joined two play specialists and patients in the play room for arts and crafts activities.
He was reunited with radiotherapy aid Fiona Bragg, 55, who took William under her wing when he spent a day shadowing staff at the south London hospital in 2005, two years before he became president of the Royal Marsden.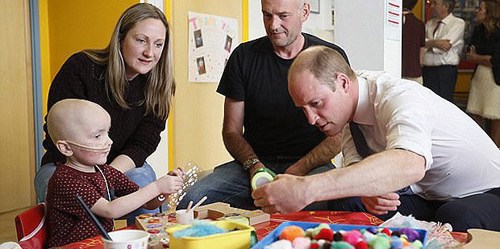 She recalled how she spent more than an hour showing the Duke how to check in patients at reception.
She said: "We just introduced him as William, he was really relaxed and friendly and spent a lot of time talking to the patients, not many people spotted him - one lady said he was a lookalike."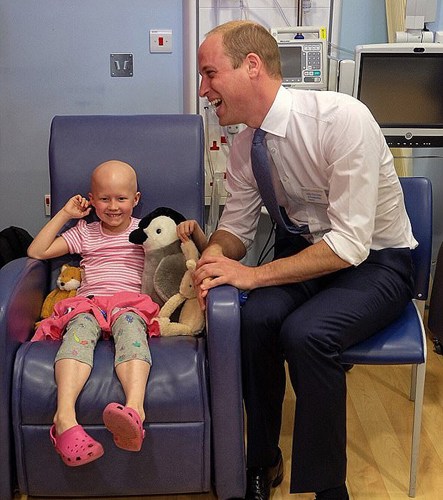 William was also shown a £10 million ($18m) MR Linac scanner, the first of its kind in the country, which combines radiotherapy treatment with traditional imaging and has the potential to allow tumours to be targeted precisely in real time.
The equipment will be trialled at the end of the year but only the magnetic resonance imaging facility will be used, and the radiotherapy will follow.
After peering into the small slot that a patient lies in as their body is scanned, the Duke joked: "I wouldn't like to lie in there for too much, I'm not sure it's as roomy as they say."
The hospital has a poignant significance for William as it was where Princess Diana visited on her first solo engagement in 1982.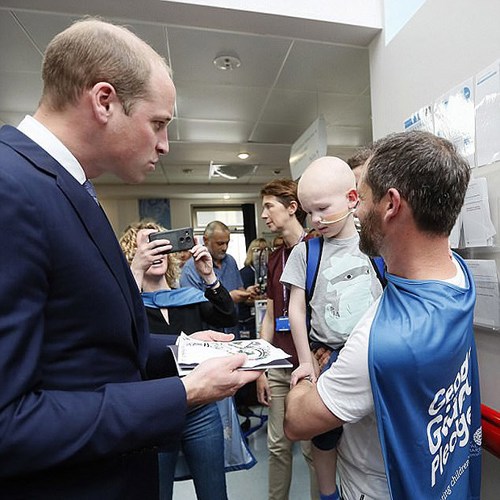 William became President of the Royal Marsden in 2007, taking over from his mother who held the role from 1989 until her death in 1997.
The Royal Marsden is the largest cancer centre in Europe, treating more than 50,000 NHS and private patients every year.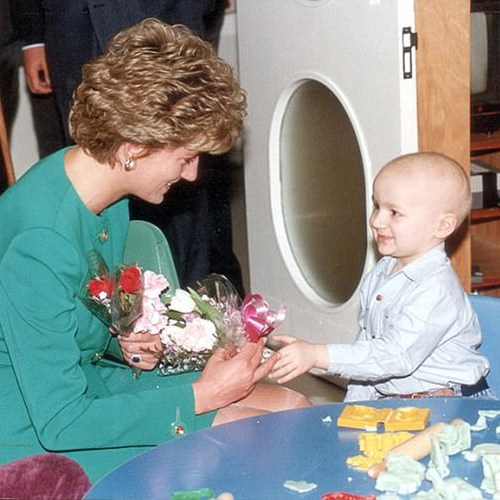 It's a busy week for William who is gearing up for the much-anticipated wedding of his sister-in-law Pippa on Saturday.
The proud father's children George and Charlotte will have starring roles as page boy and bridesmaid.
His brother Prince Harry is also attending and is expected to be joined by his girlfriend Meghan Markle.
The royals will be among the guests of honour at the wedding ceremony at St Mark's Church in Englefield, Berkshire, and at the reception at the Middleton family home in Bucklebury.
A bespoke glass orangery, costing an estimated £100,000, has been shipped from Belgium and erected in the grounds of the family home for the party.
This article was first published on dailymail.co.uk and is republished here with permission.