Coast Stars 4
Section

Win,

Publish Date

Friday, 16 June 2017, 4:15PM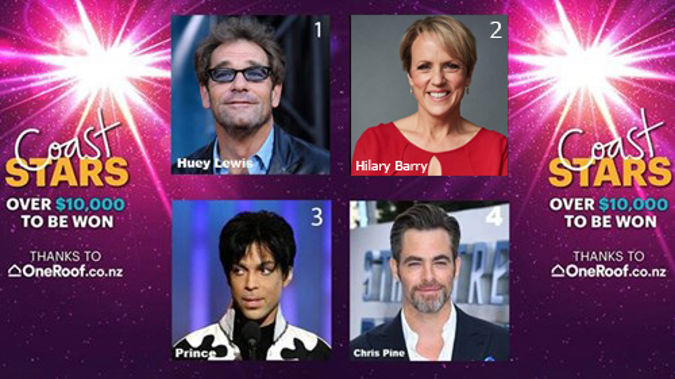 We're back again with Coast Stars 4, there's over $10,000 to be won thanks to Oneroof.
Buying. Selling. Visit oneroof.co.nz for all things property.
Congratulations to Chloe who guessed stars 3 and 4, and to Vicki who correctly guessed Coast star 1!
And an extra big congratulations to Greg from Rotorua who took home $11,000 after correctly guessing Hilary Barry as the second star!
Who will be our four stars?
1. Huey Lewis
2. Hilary Barry
3. Prince
4. Chris Pine
Here are the incorrect guesses so far:
A:
Adele
Agnetha Fältskog
Anna Kendrick
Anne Hathaway
Anne Hegerty 
Anne Robinson
Anika Moa
Antonia Prebble 
Alesha Dixon
Alison Moyet
Alan Dale
B:
Barack Obama
Barry Gibb
Benny Andersson
Benedict Cumberbatch
Billy Crystal
Bonnie Tyler
Brad Pitt
Britney Spears
Bruce Willis
C:
Camilla Sacre-Dallerup
Carly Simon 
Celine Dion
Claire Chitham 
Clint Eastwood
Cher
Chris Pratt
Chris Dickson
Chris Hemsworth
Christina Aguilera
Crystal Gayle
Cyndi Lauper
D:
Dai Henwood
Dave Dobbyn
David Bowie
David Seymour
Delta Goodrem
Demi Lovato
Dolly Parton
Donald Trump
E:
Ed Sheeran
Emma Stone
Ellen DeGeneres
Elvis Presley
Emilia Clarke
Eva Longoria
Evangeline Lilly
F:
Frankie Stevens
G:
George Clooney
George Michael
George Thorogood
Gin Wigmore
Grace Palmer
Gwyneth Paltrow
H:
Halle Berry
Harrison Ford
Helen Mirren
Helna Bonham Carter 
Hugh Jackman
I:
Isla Fisher
J:
Jacinda Ardern
James Blunt
Janet Jackson
Jennifer Aniston 
Jennifer Lawrence
Jennifer Lopez
Jerry Seinfield
Jess Glynne 
Jessie J
Jimmy Barnes
Joan Rivers
Johanna Bridgeman 
John Cusack
Johnny Depp
John Key
John Legend
Julia Roberts
Julian Dennison
Julz Tocker
Justin Bieber
K:
Kate Winslet
Katy Perry
Kelly Clarkson
Kenny Rogers
Kevin Costner
Kim Kardashian 
Kirstie Allsopp
Kourtney Kardashian 
Kylie Minogue 
L:
Lady Gaga
Lorde
Lee Majors
Leo Sayer
Leonardo DiCaprio
Liam Neeson
Lionel Richie
Lisa Kudrow
Lulu
M:
Matt Damon
Matt LeBlanc
Meghan Markle
Meatloaf
Meghan Markle
Mel Gibson
Melanie Lynskey
Michael Caine
Michael Jackson
Michael Keaton
Michael Keating
Miley Cyrus 
N:
Neil Diamond
Neil Finn
Nicole Kidman
Nicole Richie 
Nicki Minaj 
O:
Olivia Newton John
P:
Paloma Faith
Patrick Swayze
Paris Hilton
Paul McCartney
Pierce Brosnan
Pink
Q:
Quincy Jones
R:
Rachel White
Rebel Wilson
Rebekah Palmer 
Reese Witherspoon
Renee Zellweger
Robbie Williams
Rose Byrne
Roseanne Barr
Ringo Starr
Rita Coolidge
Russell Crowe
Richard Gere
Ryan Gosling
S:
Samantha Hayes
Samuel L Jackson
Sandra Bullock
Sean Connery
Sharon Osbourne
Sheena Easton
Sonny Bill Williams
Suzy Cato
T:
Taylor Swift
Ted Danson
Tim Finn
Tom Cruise
Tom Hanks
Tommy Lee Jones
Toni Collette
Toni Street 
U:
V:
Victoria Beckham
W:
Wendy Petrie
Will Smith
William Shatner
Willie Nelson
Winona Ryder
Winston Peters
X:
Y:
Z: