Elton John reveals he felt the mourning after Princess Diana's death "got out of hand"
Publish Date

Friday, 11 October 2019, 11:29AM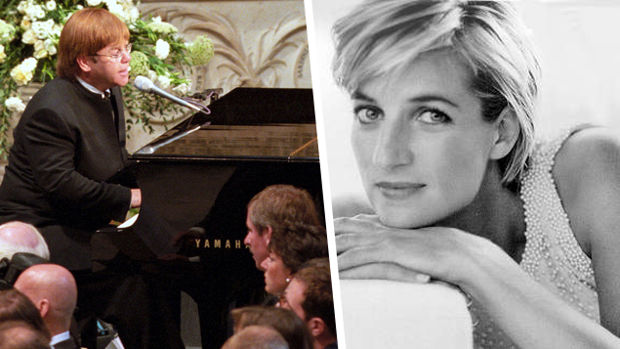 Sir Elton John has opened up about the tragic death of his friend Princess Diana in his new memoir, Me: Elton John, revealing that he believes mourning for the royal "got out of hand."
The 72-year-old music legend also claims the global scale of public grief was not "what she would have wanted".
Writing about his adapted version of the heart-wrenching hit song 'Candle in the Wind', which he performed at Diana's funeral, Elton said: "The funeral version of 'Candle in the Wind' became the biggest-selling single since the charts began.
"There was part of me that couldn't understand why anyone would want to listen to it. Under what circumstances would you play it? I never did."
Elton added that the longevity of the song made him feel "really uncomfortable."
"I listened back to it once at the studio to OK the mix and that was it: never again."
READ MORE:
• This 1991 video of Rowan Atkinson hilariously interviewing Elton John has gone viral
• Elton John reveals the savage way Rod Stewart used to dump his lovers
"Its success meant there was footage of Diana's funeral week after week on Top Of The Pops – it almost felt like wallowing in her death, as if the mourning for her had got out of hand," he said.
"I really didn't think that was what Diana would have wanted and I didn't want to do anything to prolong it any further."
In a bid to quell the song's popularity, the 'Rocketman' singer said he refused to discuss the funeral during television appearances and has not included the updated version of the song on any greatest hits albums.
"So when Oprah Winfrey asked me on her talk show to discuss the funeral, I said no.
"The Diana version of 'Candle In The Wind' has never been included on any Greatest Hits album I've put out, and it's never been re-released."
"I just wanted life to get back to some semblance of normality," Elton wrote.
Diana was just 36-years-old when she was killed in a car crash in a Paris tunnel on 31 August 1997 - leaving Britain and the world in anguish.
As many as 2,000 people - including global celebrities and politicians - attended Diana's funeral at Westminster Abbey on September 6, 1997.
The ceremony was broadcast around the world and was viewed by an estimated 2.5 billion people - making it one of the biggest TV events in history.