Bay of Plenty Bay Bites: Takara Japanese Restaurant
Publish Date

Mon, 26 Nov 2018, 2:03PM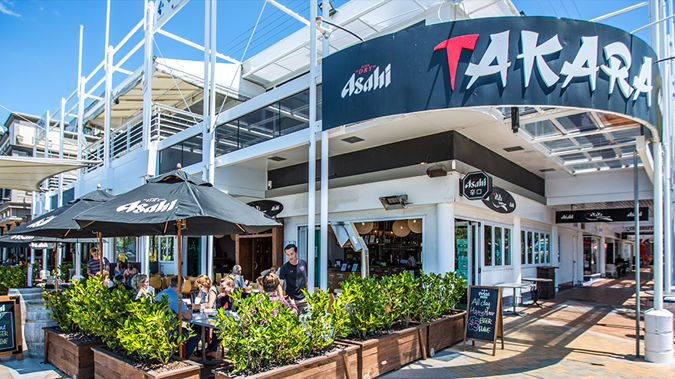 Bay of Plenty Bay Bites: Takara Japanese Restaurant
Publish Date

Mon, 26 Nov 2018, 2:03PM
Takara means jewel in Japanese, and Takara restaurant on The Strand has been a jewel in Tauranga's restaurant scene for a number of years, offering increasingly popular Japanese food to locals and visitors alike.
Takara has always showcased Japanese cuisine beyond the standard fare of sushi (although they have wonderful sushi too), and their new updated lunch and dinner menus are reflective of this, encouraging diners to experience more Japanese flavours and cooking styles.
The restaurant caters both for large groups, families as well as more intimate dining, with a variety of seating both inside and out the restaurant.
As it was a sunny Friday we opted for the outside tables with a glorious view of the Tauranga waterfront, and a great spot for people watching.
On the menu At lunch time, you can opt for snacks and drinks, or more substantial lunch options of mains, entrees and desserts. Tempted by the snacks, with snacks including fried thousand flavour spicy chicken wing with sesame mayo, and homemade pork chive and shitake mushroom dumpling with black vinegar, we tried dumplings. A crowd pleaser with the mellow comforting flavours and texture of the dumplings spiced up with the dipping source.
For starters we had a gorgeously presented platter of tender scallops in their shells with squid ink cheese espuma and white miso. A deliciously light way to enjoy scallops. We also couldn't resist the prawn tempura, which we marvelled at the size of the huge prawn, in a crispy batter, so wonderfully light it dissolved on the tongue. The richness of the tempura was complemented by a tangy papaya salad.
For entrees there's also a selection of different sashimi options (raw fish), and for vegetarians a fried tofu and shitake mushroom tempura wit a tapioca dashi broth.
The mains include a range of creative dishes with elements of traditional European food - such as eye fillet, or lamb rack, but cooked the Japanese way. There is something to please everyone from pork belly, to pork chasu shio ramen in gourmet broth to the intriguing sounding Alaska halibut truffle shioyaki (salt grilled). But being a salmon lover I opted for the Glazed Ora king salmon which was lightly poached with pear in a red wine jus and served with mushroom butter yaki (yaki means cooked over heat) with corn cream sauce. The generous slab of pink salmon was beautifully flaky and melt in the mouth tender.
My colleague had a rack of lamb which was a creative blend of the traditional lamb rack but with Japanese flair, served with an aromatic beetroot salad, cauliflower puree and gochuzang tare (a sweet and spicy chili paste).
We finished with a dessert of deep fried banana, vanilla icecream, and caramel syrup - deliciously indulgent.
To drink There is an extensive drinks list with the European and international wines and spirits. For those who want the authentic Japanese experience there is choya (plum wine), Sho-chu (Asian spirits) various spirits with the base ingredient of sweet potato, rice or barley. There's also a range of sake, Japanese wine, served in traditional Japanese measuring glasses (tokkuri).
The verdict For an authentic Japanese experience with knowledgeable waiting staff to guide you through and excellent service, Takara is a great dining experience.