Lorna's Cooking School with Allyson Gofton: Anchovy And Salami Slice
Publish Date

Wednesday, 25 March 2015, 10:32AM
Cream cheese for the perfect savoury pastry? Who knew! Allyson did - here she teaches us how to make a really quick, easy and perfect pastry then shows us how to whip up a delicious slice, perfect for weekend lunches!


Recipe:
Anchovy And Salami Slice
Onions, drenched in olive oil and pan-fried until golden and sweetly caramelised, are the basis for this Provencal-style tart, which I have partnered with a flaky cream pastry.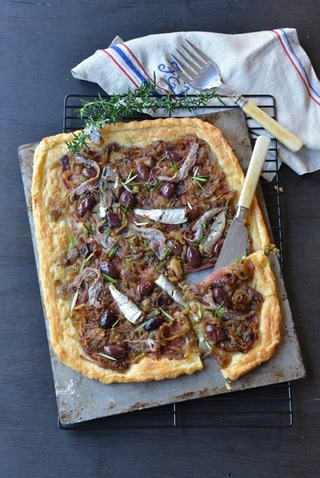 Preparation Time: 30 minutes
Cooking Time: 35 minutes
Serves: 6


Ingredients:
2 cups flour
¼ teaspoon baking powder
175 grams butter, chilled and diced
125 grams cream cheese, chilled and diced
3-4 tablespoons chilled water

Topping:
3 large brown or red onions, peeled and sliced
¼ cup olive oil (extra virgin is nice here)
1 teaspoon each minced garlic and finely chopped fresh rosemary
100 grams finely sliced salami
½ cup black olives
50 grams anchovies or sardines


Method:
Preheat the oven to 200ºC. Lightly grease a large oven tray.


Sift the flour and baking powder into a bowl and rub in the butter and cream cheese. Stir in sufficient water to make a mix of small moist balls of dough. Turn out onto a bench and bring together. Wrap in baking paper or plastic wrap and refrigerate while preparing the topping.


Cook the onion in the oil in a large frying-pan for 20-25 minutes, stirring regularly until well softened. Add the garlic and rosemary and cook for a further 2-3 minutes. Allow to cool.


Roll the pastry out to a rectangle 3mm thick and transfer to the prepared tray, pinching the edges if wished. Arrange the salami slices on top of the pastry, scatter over the onion mixture and top with the olives and anchovies or sardines.


Bake in the preheated oven for 35 minutes or until golden and the pastry is crispy. Serve hot, garnished with fresh rosemary sprigs and accompanied with sliced tomatoes drenched with olive oil and drizzled with balsamic vinegar.



Find more great recipes from Allyson Gofton at www.allysongofton.co.nz.