Publish Date

Thursday, 18 September 2014, 12:00AM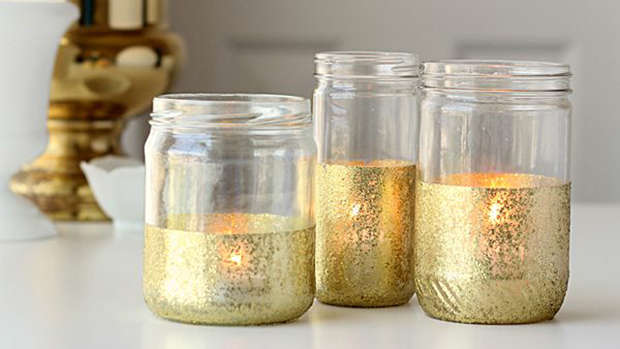 NZ Woman's Weekly craft editor Alice Arndell says crafting doesn't have to be time-consuming. As an example, she suggested we add a bit of sparkle to our everyday with simple but stylish glitter-dipped jars for flowers or candles, or to house hair ties and makeup in the bathroom.
What you'll need:
Jars, bottles or votive candle holders
Masking tape
PVA glue
Paintbrush
Fine glitter
Hairspray (optional)
Ensure all your jars are label free and clean, then use masking tape to create a neat, even line around the jar. You can also use sellotape or washi tape but it is more difficult to remove.
If your jar has slopping sides, use small pieces of overlapping tape rather than one continuous piece as it will give you a straighter line.
Paint a thick (but not dripping) layer of glue over a section of the jar. Try not to get too much glue on the tape as it will make it harder to remove cleanly.
Coat the glue thickly with glitter, tapping off the extra onto a piece of paper. Repeat glue and glitter until you've covered the whole jar. Set aside to dry completely (6-12 hours). If you have any spots that are a bit thin on glitter simply dab with glue and sprinkle again.
Carefully peel off tape. You will find that the jars shed a bit of glitter as you handle them so if you want, you can give them a light coat of hairspray to help hold glitter in place.