Whakatane: A brief time of plenty
Publish Date

Wednesday, 4 April 2018, 10:53AM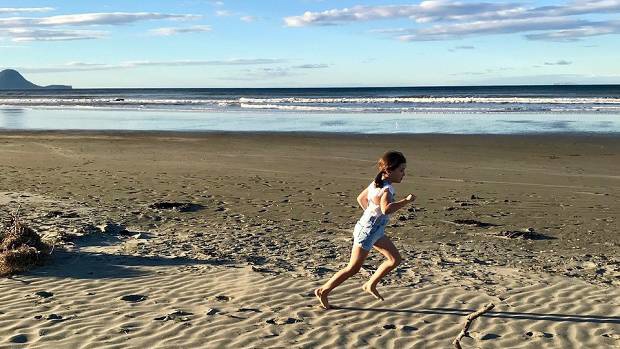 There is much to enjoy here on a mother-and-daughter getaway weekend, writes Lorna Subritzky.
It's officially autumn in Aotearoa — well, everywhere except Whakatane. In this Eastern Bay of Plenty town, they're basking in their unofficial fifth season, which is dubbed "autumn-summer" by locals. As I'm an unapologetic heliophile, I decided to follow the sun and head to the region for my first visit in more than 20 years, youngest child in tow. What we found was a welcome as warm as the water.
HOW TO GET THERE
We had only 48 hours to spare, so didn't want a lengthy drive eating into our swim time. Air Chathams runs three return flights a day from Auckland, with fares from $89 one way. The Fairchild Metroliner holds 19 passengers so it's cosy but efficient: terminal to terminal takes just 35 minutes. There's also the bonus of glorious aerial views as you land in Whakatane to show off on social media. And while her nervous mum found the odd air pocket a little disconcerting, young Zoe gave the flight two thumbs up.

WHERE TO STAY
Although there are plenty of accommodation options in the region, our visit coincided with a national event so rooms were scarce. It couldn't have worked out better however: we checked into Seaview B&B in Ohope, just a few steps from the beach in a gated community. Our hosts Lynnette and Ross are former dairy farmers who've retired to this beautiful spot, and clearly they delight in looking after people: special touches include fresh baking on arrival, complimentary port and locally made chocolates, and delicious breakfasts (a highlight was smoked kahawai fritters made with fish caught by our hosts), all served up with an ocean view. Zoe said Lynne reminded her of her best friend's beloved nana — high praise indeed.
WHERE TO EAT
At the risk of sounding like a pompous city slicker, we weren't heading to Whakatane for its eateries so I didn't expect the food scene to be much chop. I had to order a big serving of humble pie. In just the short time we were there, we enjoyed a beautiful beachside brunch (Moxi in Ohope — iced chocolate a highlight), an authentic French cafe, fromagerie and charcuterie (L'Epicerie in Whakatane — I recommend a galette washed down with a French cider), Mexican with a side of character and a guacamole that satisfied this purist (Cadera in Ohope — book a table on the deck overlooking the water), and succulent seafood with stellar harbour views (Fisherman's Wharf in Ohope, where owner Tom darts about delivering morsels of hilarity along with palate-pleasing plates). Happy mum and happy child (Zoe was able to order a kids meal wherever she went, despite it not always being on the menu).

BEST-KEPT SECRET
is the hidden jewel of the Whakatane area. This secluded beach is accessible only by kayak or by foot, but the steep 15-20 minute walk from Ohope's West End is definitely worth the effort. Pohutukawa trees loom over a beach of stone and crushed seashells, and the warm waters of the Pacific lap quietly against the shore, creating a peaceful atmosphere. Zoe gathers a number of perfect seashells to take home and a handy sign helps us identify them. Next time, we promise ourselves, we're coming by kayak.
MUST DO
is a fully carved Maori ancestral house that travelled the world for more than a century before finally returning home to its people — the Ngati Awa. This incredibly moving story is brought to life in a unique cultural experience, combining the traditional (the ritual of powhiri) and the modern (the stunning award-winning digital light show Hiko: Legends Carved in Light, where we learned the meaning of the name Whakatane, "to act like a man"). A korero with hosts Maru and Tame over a feast of fried bread, kumara brownies and kawakawa tea to finish, and these local Pakeha were as satisfied as the enthralled overseas tourists. "Everyone should go," said Zoe, and I can't fault her logic.

Whakatane is known as the Gateway to White Island, so it'd be a crime to leave without viewing our most active volcano, 50km offshore. How you do it is up to you: by boat or by helicopter, where you can land and explore the lunar-like landscape; or by air with a scenic flight. As time is fast running out, we opt for the latter and in the expert hands of pilot George, we are able to see this natural wonder from every angle, snapping picture-perfect pics of the acid-green crater lake, the roaring steam vents, the enormous gannet colony, and the remains of the sulphur mine (where 10 miners lost their lives in 1914). George takes his job as tour guide pretty seriously: before we head back to the airport, he points out many other landmarks, and takes us for a final sweep over the 11km white sand stretch of Ohope, once voted New Zealand's most-loved beach. Otarawairere Bay looks even more beautiful from above.
In short? Our weekend was too short. Whakatane delivered everything under the sun — including the sun — and now tops my list of local destinations for a short break. Zoe is already planning our return.

Take your Radio, Podcasts and Music with you