Coast Stars - Be in to Win $10,000!
Section

Win,

Publish Date

Friday, 29 March 2019, 2:31PM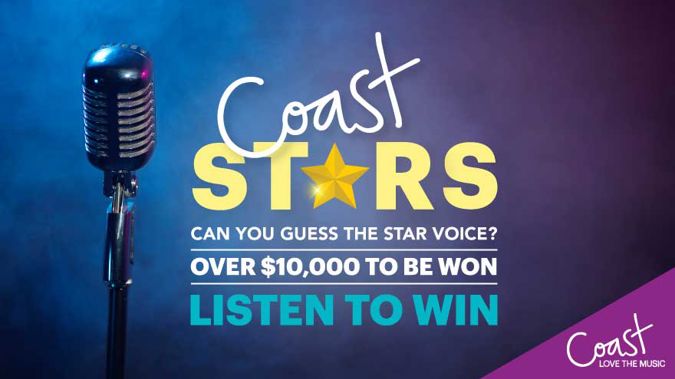 We're back again with Coast Stars with over $10,000 Coast Cash to be won.
Each star is worth $1000 and if you manage to guess all four - they're worth $10,000!
Tune in a 8AM, 10AM, 12PM, 3PM AND 5PM for your chance to play.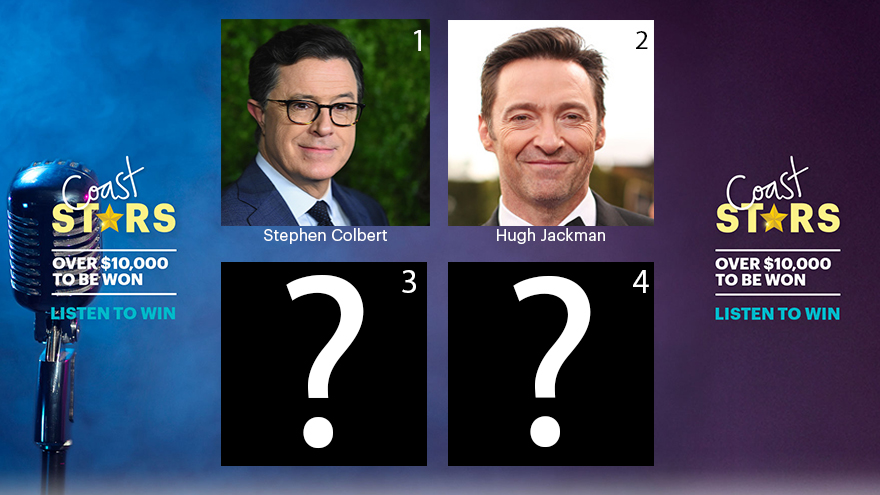 Congratulations to Monuina Lakua and her colleagues who correctly guessed Hugh Jackman as Coast Stars #2 and took away $1000! 
Congratulations to Debbie Larson who correctly guessed Stephen Colbert as Coast Stars #1 and took away $1000!
Correct guesses:
1. Stephen Colbert
2. Hugh Jackman
3. ?
4. ?
Incorrect Guesses:
A:
Adam Lambert
Adam Sandler
Adele
Alanis Morissette
Alison Moyet
Amy Schumer
Angelina Jolie
Anika Moa
B:
Barack Obama
Barbra Streisand
Barry Manilow
Benedict Cumberbatch
Beyoncé
Bob Geldof
Bono
Bradley Cooper
Bradley Walsh
Britney Spears
Bruce Springsteen
Bruce Willis
Bryan Adams
C:
Cameron Diaz
Cardi B
Cat Stevens
Charlize Theron
Cher
Chris Miller
Christina Aguilera
Cliff Richard
Colin Firth
Cyndi Lauper
D:
Dave Dobbyn
Drew Barrymore
Dolly Parton
Donald Trump
E:
Ed Sheeran
Ellen Degeneres
Elton John
Emilia Clarke
Emily Blunt
Emma Stone
F:
Fiona Apple
G:
George Clooney
George Ezra
Gladys Knight
Gwenyth Paltrow
H:
Harry Connick Jnr
Huey Lewis
I:
J:
James Corden
Jeff Bridges
Jennifer Aniston
Jennifer Lawrence
Jennifer Lopez
Jimmy Page
John Legend
John Lennon
John MacEnroe
John Mayer
John Travolta
Johnny Depp
Jude Dobson
Judi Dench
Julian Clary
K:
Katherine Heigl
Katy Perry
Keala Settle
Keisha
Keith Richards
Keith Urban
Kelly Clarkson
Kim Kardashian
Kourtney Kardashian
Kylie Kenner
L:
Lady Gaga
Lenny Kravitz
Lionel Richie
Lorde
Lorna Subritzky
M:
Madonna
Mark Labbett
Martin Kemp
Matt LeBlanc
Meghan Markle
Mel Gibson
Mel Homer
Michael Buble
Michael Crawford
Michelle Pfieffer
Michelle Williams
Mick Fleetwood
Mick Jagger
Mike King
Miley Cyrus
N:
Neil Diamond
Neil Finn
Norah Jones
O:
Ozzy Osbourne
P:
Paul McCartney
Paul Sinha
Pete Townsend
Phil Collins
Prince Harry
Prince Williams
P!nk
Q:
R:
Rachel Hunter
Rami Malek
Rebel Wilson
Reese Witherspoon
Richard Gear
Ringo Starr
Robbie Williams
Robert Plant
Ronan Keating
Russell Crowe
Russell Howard
Ryan Gosling
Ryan Reynolds
Ryan Seacrest
S:
Sandra Bullock
Scarlett Johansson
Selena Gomez
Shakira
Shania Twain
Sharon Stone
Shaun Wallace
Simon Dallow
Steely Dan
Stevie Nicks
Stevie Wonder
Steve Hansen
Susan Boyle
Sylvester Stallone
T:
Taika Waititi
Taylor Swift
Timothy Olyphant
Tina Turner
Tony Bennett
U:
Urzila Carlson
V:
Valerie Adams
W:
Wendy Petrie
Whitney Houston
Whoopi Goldberg
X:
Y:
Z:
Zac Efron
Zach Galifianakis
Zoe Saldana
Zoi Sadowski-Synnott