Ghost Stars: Be in to WIN $10,000!
Section

Win,

Publish Date

Monday, 7 October 2019, 12:13PM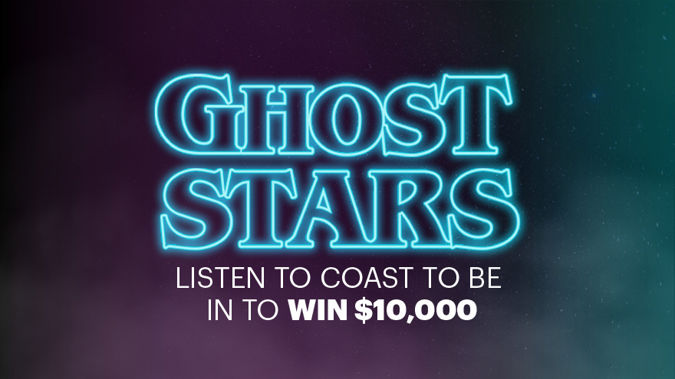 Congratulations to Mihi Ryan who has taken away $11,000 for correctly guessing Anthony Bourdain as our last Ghost Star!
And congratulations to Luke Hordern who correctly guessed Elizabeth Taylor as Ghost Stars #1 and Robin Williams as Ghost Stars #2, taking away $2,000, and Christine Kerr who correctly guessed Whitney Houston as Ghost Stars #3 and has won $1,000!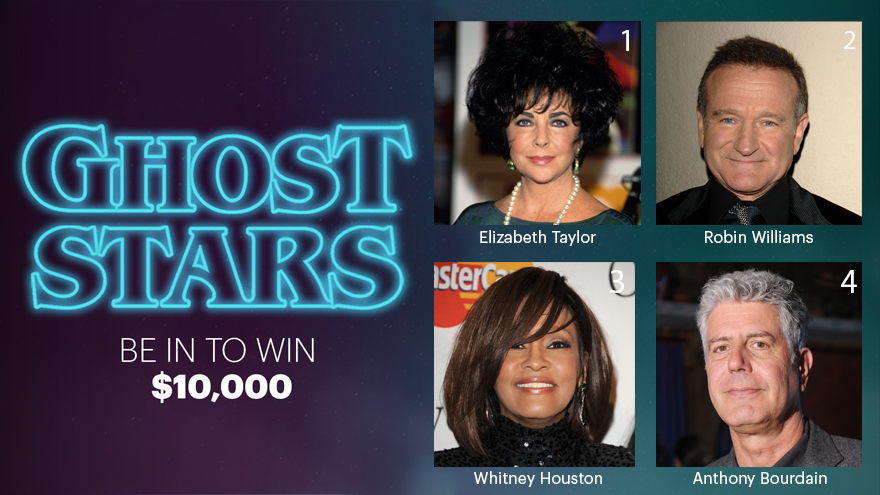 Correct guesses:
1. Elizabeth Taylor
2. Robin Williams
3. Whitney Houston
4. Anthony Bourdain
We're bringing back Coast Stars, but with a twist ...
Ghost Stars are coming back to life with over $10,000 in Coast cash to be won.
Guess the name of one star in the correct order and you'll win $1,000. 
If you manage to guess all four stars in the correct order you'll walk away with $10,000!
For your chance to play Ghost Stars, listen for the cue to call at 7AM, 10AM, 12PM, 3PM AND 5PM and call 0800 004 COAST (0800 004 262).
Incorrect Guesses:
A:
Amy Winehouse
Angela D'Audney
Aretha Franklin
Austin Powers

B:
Barry White
Billy T. James
Bob Marley
Boris Karloff
C:
Cesar Romero
Christopher Lee
D:
David Bowie
Diana, Princess of Wales
Donna Summer

E:
Elvis Presley
F:
Freddie Mercury
G:
George Harrison
George Michael
H:
Harold Ramis 
Heath Ledger
Howard Morrison

I:
Ike Turner
Isaac Hayes
J:
Jack Lovelock
James Dean
Janis Joplin
Jim Carroll
Jimi Hendrix
Joe Cocker
John Belushi
John "Cocksy" Cocks
John Candy
John Lennon
Johnny Cash
Johnny Depp
Jonah Lomu

K:
Katy Perry
L:
Laura Branigan
Leonard Cohen
Louis Armstrong
Luke Perry

M:
Marilyn Monroe
Marvin Gaye
Michael Hutchence
Michael Jackson
N:
O:
P:
Patrick Swayze
Paul Walker
Philip Seymour Hoffman
Prince
Pua Magasiva

Q:
R:
Ray Charles
Ric Ocasek
Ricardo Montalban
River Phoenix
Rod Stewart

S:
Seal
Selwyn Toogood
Steve Irwin
T:
Telly Savalas
Tom Petty
Tupac Shakur

U:
V:
Vincent Price
Vincent Schiavelli

W:
Waylon Jennings
Winston Churchill
X:
Y:
Z: