Win a Superior Sleep+ Package thanks to Nutra-Life and Sleepyhead!
Section

Win,

Publish Date

Friday, 9 August 2019, 10:04AM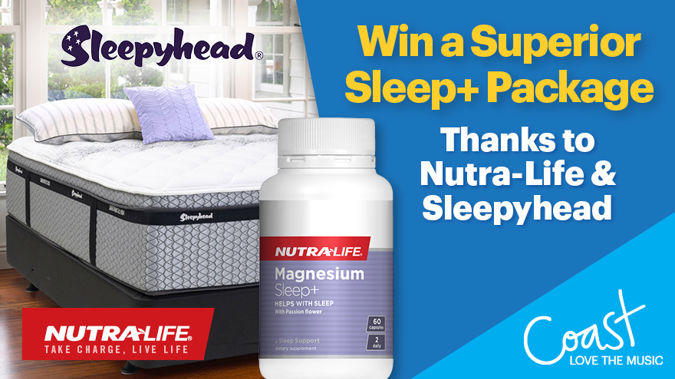 CONGRATULATIONS to Carolyn Russell who has won a Superior Sleep+ Package worth over $8,000!
Jase & Bernie's sponsor Nutra-Life has over 50 years' experience in helping Kiwi families to take charge of their wellbeing.
Sleep is a massive contributing factor to our wellbeing and with Nutra-Life's commitment to helping you and you're family, we've all joined forces with Sleepyhead to giveaway a Superior Sleep+ Package worth over $8,000!
Carolyn has won:
Top tip – read the below to help answer the questions!
If you're currently struggling with sleep, Nutra-Life's NEW Magnesium Sleep+ could be the much-needed support you need to fall asleep, stay asleep and wake up feeling restored.
Nutra-Life Magnesium Sleep+ product is a unique formula combining Magnesium amino acid chelate with sleep supporting herbal extracts: Passionflower, Lemon balm, Schisandra & Hops to support relaxation and healthy sleeping patterns.
Helps you to fall asleep, stay asleep and wake up feeling refreshed
Relaxes and eases muscle tension for a more restful night's sleep
Helps to combat stress symptoms to calm and relax the body
Top tips for Good Sleep
A comfortable mattress and pillows can set you up for a good sleep and of course Nutra-Life Magnesium Sleep Plus

Stick to a sleep schedule – even in the weekend

Don't exercise too late in the day – allow 2 hours between exercising and going to bed

Avoid alcohol, caffeine & nicotine & large meals late at night

Try not to nap after 3pm

Make sure to leave time to relax before bed (take a hot bath)

Have a dark, cool, gadget free bedroom – the ideal bedroom temperature is 18.3 C

Don't stay in bed if you can't sleep – get up and have a walk around or read for a while (not with a bright light)