Win your spot at a VIP cocktail masterclass with Toni, Jase & Sam - thanks to Black Pineapple co.
Publish Date

Monday, 15 November 2021, 6:00AM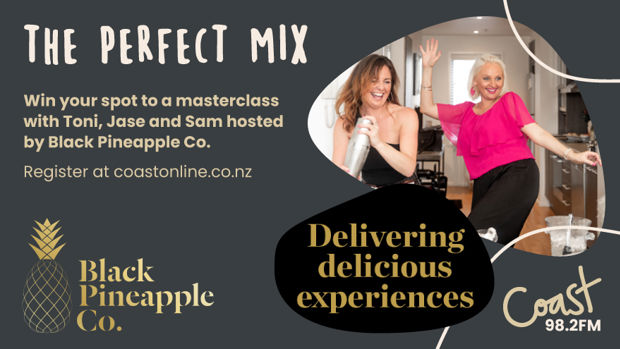 To celebrate the launch of Black Pineapple's amazing virtual cocktail masterclasses - perfect for work teams!
Black Pineapple have created the ultimate Christmas Cocktail for 2021, the deliciously amazing Pohutukawa Cooler, and now it's YOUR TURN!!
We want to know what's in your ultimate Christmas cocktail.
Is it rum or gin-based, fruity or floral, sweet or sour? Is it shaken or stirred, creamy or citrus-y?
The 17 most creative, delicious sounding cocktails will each win:
A Black Pineapple Co. Party Starter masterclass experience from the comfort of your own home, valued at $145.
Boxes containing everything you need to make 2 outstanding party cocktails will be delivered to your place.
An exclusive link to the VIP masterclass, hosted by Black Pineapple and the Coast Breakfast Team – Toni, Jase & Sam. You'll join us live at the Black Pineapple studio for an hour of entertainment, fun and of course cocktails where we share insider tips, tricks and techniques as you make along with the team.
For more information visit our Instagram: @blackpineappleco
Or Facebook: www.facebook.com/blackpineappleco