Stephanie Jones Book Review: 84K
Publish Date

Friday, 24 August 2018, 1:09PM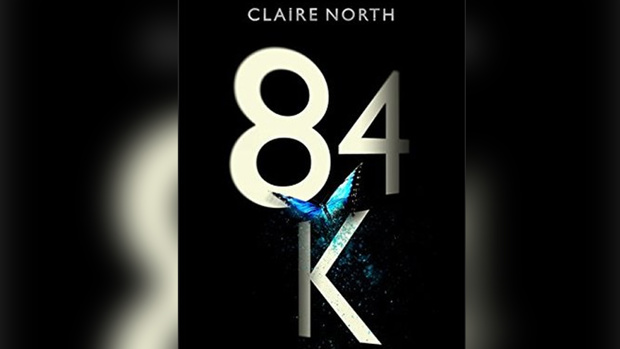 Even in dystopia we cannot escape mandatory team-building events. Claire North's 84K, a novel whose shimmering promise and knife-sharp premise are ultimately swamped by an excess of story, begins with a man, who has adopted the identity of Theo Miller, going on a weekend conference with his colleagues in the Criminal Audit Office. Everyone has to pay their own way, and attendance isn't compulsory, but anyone who doesn't go will be docked a week's pay and a note will be made in their file by their employer, the Company, the owner of everyone and everything.
Theo lives and works in a future London where the privileged live in havens fenced off from "the screamers, the scroungers and the children from the surrounding enclaves", and the only goal is to avoid tumbling down the societal ladder into something even worse than our early 21st-century measure of poverty, the "patty line", a literal and figurative term for the most menial and back-breaking work, as deadly and inescapable as the Gulag.
Theo's job – the one place, curiously, in which he is largely left alone – involves assessing crimes and charging a levy for each offence, payable by the offender. A first-time sexual harasser might be charged several hundred pounds, while a murder will attract a levy in the tens of thousands, with cost variations depending on who the victim is – their age, gender and value to the larger enterprise of the Company, which abolished human rights more than a decade before, when Theo was in early adulthood. He remembers a world before, when he attended a private school and a classmate was killed in a prank by another student. The death was covered up by the faculty and the parents, the dead boy's family was paid off, and Theo assumed the boy's identity.
Broken down for parts, 84K seems to stitch together an array of analogies. I read it the same week Apple was named the first trillion-dollar company, and the picture of a corporation swallowing up whole governments and ruling for nothing other than profit – raising the price of crime in line with inflation, establishing Civic Police and Corporate Police to manage different demographics – is so plausible it could make you scream.
Then there's Theo's bond with Neila, a woman who survives by riding the canal system where, she explains, "There's a code. You help people." The Company's omnipotence is resisted by a resilient strain of goodness in humanity that, if Theo can tap into it as just the right angle, will bring down the overlords and restore a more compassionate, less mercenary order.
There is a plot, involving Theo's former love and a daughter he never knew he had, but it's not easy to follow through the maelstrom of genres the novel sweeps in and out of: fugitive drama, revenge tale, love story, apocalyptic thriller. North is a fine prose stylist with good storytelling instincts, but Theo – whose heart and spirit forge a connection with the reader as few protagonists do – too often gets lost in the noise.
To be in to win a copy of 84K here.
Every week Stephanie reviews the Book of the Week.
As the Coast book reviewer, Stephanie Jones shares her thoughts each week on the latest releases.
Stephanie has a BA (Hons) in history and English literature, and a background in journalism, magazine publishing, public relations and corporate and consumer communications.
Stephanie is a contributor to the New Zealand Book Council's 'Talking Books' podcast series (listen here), and a member of the 2016 Ngaio Marsh Award judging panel. She can be found on Twitter @ParsingThePage.

Take your Radio, Podcasts and Music with you