Stephanie Jones Book Review - A Question of Trust
Publish Date

Thursday, 19 October 2017, 12:25PM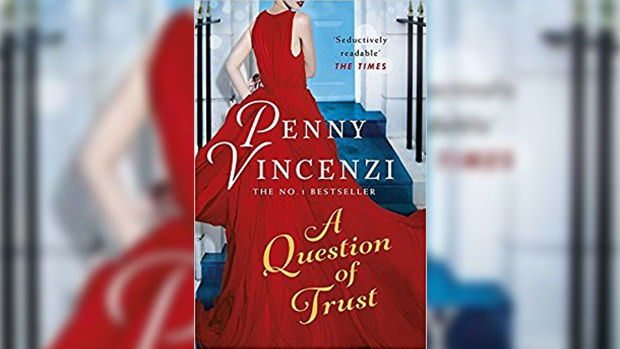 Author

By Stephanie Jones
The sprawling cast of A Question of Trust, Penny Vincenzi's 17th novel, orbits around Tom Knelston and Diana Southcott, who grew up together in a small Hampshire village where Tom, the middle child of five, earned a grammar school scholarship and Diana enjoyed the cushion of privilege afforded by her family's wealth and political connections.   
In the late 1930s, when the saga begins, most conversation, whether casual or serious, is about Hitler. Tom trains as a lawyer and dabbles in the outskirts of politics, through which he meets and marries Laura Leonard, a feisty deputy school headmistress and the bright, feminist (before the term existed) daughter of a damaged Great War veteran.
Diana makes an advantageous marriage to Johnathan Gunning, a pleasant young man with a title to whom she has no attraction. Johnathan isn't getting much out of the deal either; when his brother is shot down by the Luftwaffe in 1940, he discovers that his bride "lack[s] emotional imagination", simply taking the tragedy in her lanky stride (Diana will become a renowned model; she doesn't need the status, but the financial independence comes in handy).
The Blitz is covered in a few heady pages before normal life resumes in post-war London, where Diana is forced to consider her incompatibility with her husband, newly returned from the conflict. Far more than home or hearth, hospitals feature prominently, even climactically, in Vincenzi's tale: Diana eschews the homebirth favoured by women of her class and opts for a clinic-based obstetrician; Laura endures prolonged fertility struggles; and a young nurse named Alice applies skill and passion to her profession, which she views as "charting a course across difficult terrain".
It's only a minor spoiler to note that it will be Alice, not Laura, who serves as forebearing political wife as Tom is tucked beneath the wing of Labour Party nabob Donald Herbert, who sets him up as the candidate in a marginal seat in the national election that, along with a desperately ill child, dominates the final third of this heady story.
Vincenzi does fraught and frantic as well as any scribe of potboilers, and her amusingly hyperbolic style has her characters lurching between waves of misery and swells of ecstasy, with not much in between. Another insistent trait: she has never been fond of writing villains, and though there is bad behaviour to be found in A Question of Trust – notably infidelity, Tom's self-pity and Diana's self-absorption – no one is beyond redemption.  
There is, however, a ghastly case of medical malpractice, and even more sinister, a reminder of the poisonous scourge of homophobia in the post-war United Kingdom. Coupled with a paternalism so deep-seated that it lay at society's very foundations, it was in some cases nothing short of homicidal, and on both themes Vincenzi delivers an unexpectedly profound and timely message.
Alice's storyline, in which she is warned that she is "being a typical nurse, thinking you know more than the doctor", has her coming to metaphorical blows with her husband and the medical establishment, all because she insists that her son – who has been cared for almost exclusively by her since his birth – is ailing from something more serious than a grumbling appendix. She's correct, of course, and the reader can't help but suspect that Vincenzi, mother to four grown daughters, greatly enjoys employing fictional women to put the world to rights.
To get in the draw to win one of five copies of A Question of Trust click here.
Every week Stephanie reviews the Book of the Week.
As the Coast book reviewer, Stephanie Jones shares her thoughts each week on the latest releases.
Stephanie has a BA (Hons) in history and English literature, and a background in journalism, magazine publishing, public relations and corporate and consumer communications.
Stephanie is a contributor to the New Zealand Book Council's 'Talking Books' podcast series (listen here), and a member of the 2016 Ngaio Marsh Award judging panel. She can be found on Twitter @ParsingThePage.

Take your Radio, Podcasts and Music with you