Stephanie Jones: Book Review - A Window Opens by Elisabeth Egan
Publish Date

Friday, 1 April 2016, 11:42AM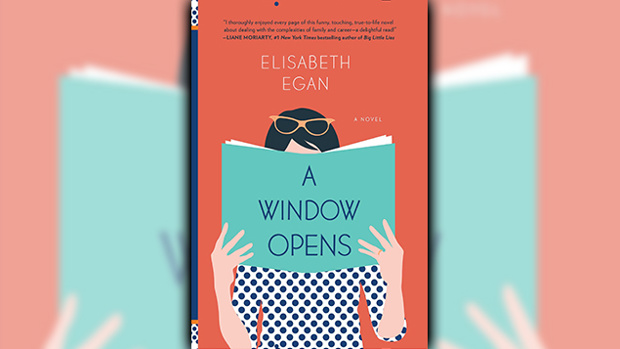 Author

By Stephanie Jones
Literate, lucid and sparklingly readable, A Window Opens, the debut novel of Glamour books editor Elisabeth Egan, is lit up by the author's uncloaked adoration of her fellow writers. At one point, its protagonist, wandering into a tony New York event, observes that the people around her look like they were "born in a John Cheever story, educated in a Donna Tartt novel, and now lived the full Jonathan Safran Foer life."
As we meet Alice Pearse she has not yet discovered that life doesn't come packaged in a neat three-act arc, and is smug about her enviable work-life balance: three days a week as books editor of a women's magazine are rounded out by PTA meetings and other cosy duties for her lawyer husband Nick and three children aged between five and 11.
It's a wonderful life, until Nick burns his bridges at his big law firm and decides to strike out with his own practice. The need to bolster the family income propels Alice into a search for a full-time job, and she quickly lands a role as an "ambassador of sorts" (formal title: ScrollCrier) at the nascent book retailing arm of MainStreet, a massive online retailer. Scroll, on a mission to "reinvent reading the way Starbucks reinvented coffee", is subject to its parent's rules of hyper-productivity and dominated by acronyms and faux-cutesy terminology.
Alice's acculturation teaches her the meaning of WATOQ (Winners Answer Their Own Questions), to never use two words when you can craft a twee sub-brand (a company-wide meeting is a TownGreen), and to file a "trouble ticket" when she needs help or advice from colleagues – but not so fast, Alice; you want to be seen as a capable problem-solver, don't you?
That kind of question is wont to spring from the lips of Genevieve, Alice's boss, who presents an unsettling mix of practical advice and a Sturmbannführer'sdevotion to hierarchy. Like a dancer gathering pace against a quickening beat, Alice must move faster and juggle more to stay apace of the contrary demands of Scroll and her family – especially as Nick is spending more time drinking beer than advising clients. Her new role also brings her into conflict with a dear friend who owns a small bookstore, and the punishing American way of work is illuminated by Alice's struggle to spend time with her cancer-stricken father.
Egan's wry and balanced eye for the absurdities of a working mother's life are reminiscent of Maria Semple's superbly histrionic novel of a Hollywood housewife, This One is Mine. Though not as acid a satirist as Semple, Egan goes for the jugular with the archetypal online-retail colossus MainStreet, whose kill-or-be-killed approach to employment relations dovetails with the anecdotes in last year's web-breaking New York Times investigative report on Amazon's work culture. And just as Semple draws on her background in TV writing, some of Egan's account of the world of publishing must be barely fictionalized.
A Window Opens serves up an intoxicating blend of the caustic and the optimistic, through the eyes of a self-deprecating heroine who you just know is going to do the sensible thing in the end. Though Egan is less concerned with the specifics of the domestic sphere than Allison Pearson in her comparable novel, I Don't Know How She Does It, she nonetheless finds artful juxtaposition in the hurly-burly of work and everyday joys of motherhood, crystallized in a message from Alice's five-year-old: "Dear Mommy, You are the World. I will never take you for granite."
Take your Radio, Podcasts and Music with you