Stephanie Jones: Book Review - Brotherhood in Death by J D Robb
Publish Date

Thursday, 11 February 2016, 10:17AM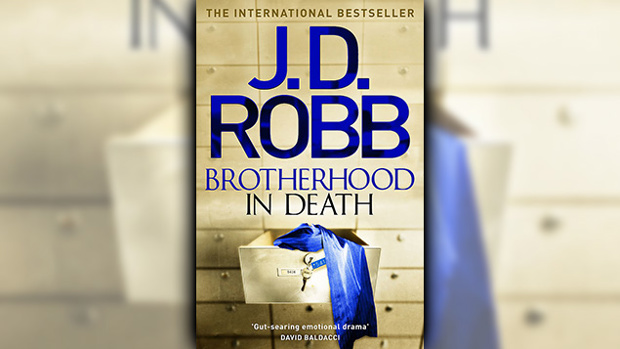 Author

By Stephanie Jones
A red herring swims through the opening passages of the latest addition to J D Robb's futuristic procedural series, Brotherhood in Death. Edward Mira, a "bombastic, hard-line" former senator and man about town in 2060s New York City, is discovered beaten and bloodied by his cousin, Dennis Mira, at their grandfather's lavish brownstone. Dennis takes a belt in the noggin from the unseen assailant, and wakes up to find Edward gone. The abduction is of immediate interest to Robb's heroine, the fearless Lieutenant Eve Dallas, and not only for professional reasons – her colleague and close friend Charlotte Mira is Dennis' wife.
What should be driving the plot, you might expect, is something to do with the family fracas over the fate of the brownstone. Edward and Dennis Mira, the sons of brothers, are not close, because only one of them is a good guy. Dennis is determined to uphold the promise he made to their Mira grandfather to keep the home in the family. Edward is equally set on selling it, and the purpose of their visit had been to meet with a real estate agent.
This would seem enough conflict for one crime novel, but hark, scratch below the surface and find a seething nest of vipers that have nothing to do with real estate (and the titular brotherhood is not an ironic reference to the fractious Mira family but an acknowledgement of the great evil some men choose to wreak when they are cushioned by wealth, renown and one another).
Once Edward Mira becomes a missing person, first order of business for Dallas and her spirited offside Peabody is to interview Mira's string of mostly youthful mistresses. His wife Mandy, cocooned by privilege and hardened by betrayal, is at best a hostile witness to her husband's life, and offers the investigators no assistance.
Nothing more will be said here about plot specifics, but a scan of the storyline would strike any observer of society and culture as topical. Though technology rules Robb's New York, where homes are cleaned and protected by droids, machines can be programmed to produce food and cars rise off the ground, humanity has been slower to make progress, and sexual violence is no less a thorny matter 50 years from now.
Robb's cleverest trick is in showing how perpetrators can become victims and victims evil-doers (or dispensers of justice, as your take may be). This revelation takes place within extremely privileged confines, and other than fleeting references to childhood deprivations suffered by Dallas and her wealthy industrialist husband Roarke, who live in the "castle" he imagined as a boy, Brotherhood in Death's Manhattan admits no notion of poverty.
The storyunfolds at some pace, and I daresay a slower rate of output would have improved the writing. The legendary productivity of Nora Roberts, who began publishing the 'In Death' series under the Robb pseudonym 20 years ago, means something's gotta give, and here it's attention to detail.
While Roberts' main line as a romance novelist is evidenced in the easy intimacy of Dallas and Roarke, she conjures a truly corny sex scene that describes Roarke's eyes as "wild and wicked" twice on the same page. Elsewhere, a character has "long, searing brown eyes". There are words to convey what she's getting at, but these aren't the right ones. No matter – with the forthright Eve Dallas taking care of business, faithful readers will find much that pleases.
Take your Radio, Podcasts and Music with you