Stephanie Jones: Book Review - End Of Watch by Stephen King
Publish Date

Thursday, 16 June 2016, 2:17PM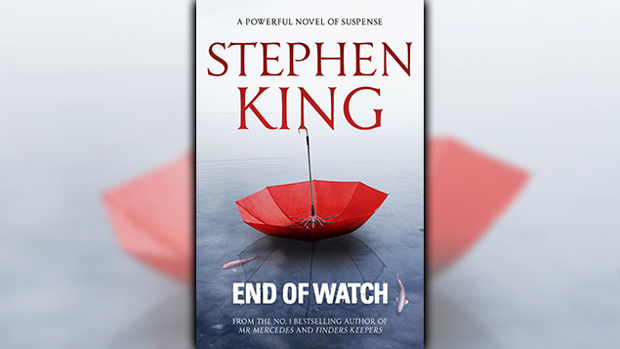 Author

By Stephanie Jones
Suicide is painless, goes the refrain of Johnny Mandel and Mike Altman's M*A*S*H theme song; it brings on many changes. In End of Watch, the conclusion to Stephen King's stellar Hodges trilogy, mass killer Brady Hartsfield, whose homicidal career began at the wheel of a stolen Mercedes and ended with eight dead and 15 maimed outside a job fair, seeks to remake himself as an architect of suicide, a 21st century Jim Jones who employs digital devices and forges invisible connections through the ether to make his victims die by their own hand.                   
Standing in the way of his Jonestown, however, is the indefatigable Bill Hodges, the retired homicide detective (now unlicensed private investigator) who was the first to form the conviction that Hartsfield is malingering inside Room 217 of the Lakes Region Traumatic Brain Injury Clinic. The reason for Hartsfield's official "gork" status is Holly Gibney, Hodges' partner, who spared a packed arena from Hartsfield's explosive intentions by felling him with a near-fatal blow to the head – but around the madman there remains an aura of menace and literal instability. Objects move without being touched, buttons pop open on nurses' uniforms. (But Hartsfield is no Carrie; he destroys solely because he can.)
Head nurse Ruth Scapelli loathes Hartsfield. Like Hodges, she is certain he is shamming while "living like Donald Trump", getting massaged and hot-tubbed while his surviving victims contend with nearly unmanageable impairment. Scapelli will become End of Watch's third body, while the first two, whose demise opens the story and reaffirms Hodges' interest in Hartsfield, are a mother and daughter. The latter, Martine Stover, was paralyzed from the chest down by the Mercedes Killer, and Hartsfield's quasi-satanic supernatural reach is long and thorny enough that he can make a victim of her a second, and final, time.
This is the power of King's fecund imagination, that fertile and terrifying thing. Across three volumes he gives free rein to two men who hew to traditional models of the hero and villain but then bust the boundaries by fighting to the death outside the commonplace strictures of crime fiction. Finders Keepers, the second story in the trilogy that opened with Mr Mercedes, introduced a supernatural thread that in End of Watch thickens and entwines itself around Hodges and Gibney and their band of allies.
Not to be cheesy, but love and trust beat evil every time, and King's river of friendship and fealty runs deep – you need only dip into IT to be reminded of that, while his horror muscle has never been stronger. Once upon a time, a dead woman crawled out of Pet Sematary and back into her husband's life; today, the world wide web is where despotism manifests. The weapon by which Hartsfield seeks to become a "suicide prince" is an unflashy gaming console called a Zappit, a hypnotic device that can be programmed to transmit messages so rapidly that they register with recipients as original thoughts.
A plague of suicides committed by seemingly normal humans who have been telekinetically zombified via a hand-held electronic device? King has never been scarier, and Brady Hartsfield's reign of terror is all too conceivable. Sure, End of Watch can be read, and thoroughly enjoyed, as a standalone novel, but why shortchange yourself? Begin at the beginning, and savour King's locomotive steadiness and surety as he unleashes a crime-horror series for the ages.
Take your Radio, Podcasts and Music with you