Stephanie Jones Book Review: Josh and Hazel's Guide to Not Dating by Christina Lauren
Publish Date

Thursday, 10 January 2019, 1:46PM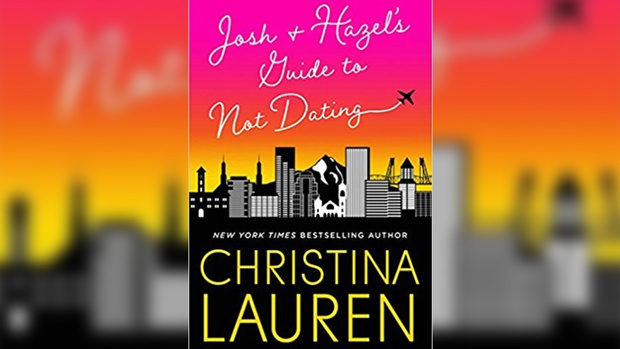 Pace is often underestimated in romantic comedy, and from page one of Christina Lauren's funfest Josh and Hazel's Guide to Not Dating we're off to the races, with Hazel Bradford recounting the series of theatrical humiliations that marked her earliest encounters with Josh Im. She threw up on his shoes; he walked in on her having sex with his college roommate; and then there was "a little story we like to call The Email Incident", when Hazel begged an assignment extension from Josh, a teaching assistant, in a missive clouded by post-surgical intoxication.
If this were a screen rom-com, the words 'Seven Years Later' would flash up as the scene cuts to Hazel working as a primary school teacher in the verdant Pacific Northwest of the United States and enjoying margarita-filled game nights with her friends Emily and Dave. It is at a party at their home that Hazel is introduced – or re-introduced – to Josh, new in town and the brother of Emily (who uses her husband's surname, so Hazel had never made the connection).
It's an implausible coincidence – of all the towns in this enormous country, you had to walk into mine – but it's the stuff meet-cutes are made of. In any case, Josh is in a long-distance relationship with a Los Angeles-based woman, and Hazel is well aware he considers her undateable thanks to their hilariously awkward history; at one point she observes, with typically unselfconscious astuteness: "He studies me like he's looking at something infectious through a microscope."
As the perspective shifts to Josh, we get a new take on Hazel, an uncommonly warm, endearing and smart heroine who helps set the novel apart from its often forgettable shelfmates: "Pretty much everyone we went to college with has a Hazel Bradford story . . . but no matter how chaotic she was, she always managed to give off an innocent, unintentionally wild vibe."
Refreshingly, neither protagonist is burdened with many hang-ups, but Hazel has learned from her parents to avoid men who are ostensibly drawn to her outgoing wackiness but then try to water her down. Her similarly extrovert, confident mother embarrassed Hazel's conservative father before they divorced, and Hazel knows that
the world "seems full of men who are initially infatuated by our eccentricities, but who . . . eventually grow bewildered that we don't settle down into calm, potential-wifey girlfriends."
There is an interesting and rather raw subtext here about how women, not men, are required to adjust their expectations and modify their behaviour in order to fit in, be wanted, not be cast out ("You don't want to die alone, do you?), and it makes for rewarding reading in a genre not known for incisive social commentary.
Of course, there are diversions – Hazel and Josh, bright young people who are daftly oblivious to their feelings for one another, embark on a series of mutual double-date set-ups, each one more appalling than the last – but it's no spoiler to say that the blind-cornered road to true love eventually straightens.
If I were to compare Josh and Hazel's Guide to Not Dating to anything it would not be another book but the perennially charming, funny and slightly raunchy British romcom Four Weddings and a Funeral – though fortunately (and with apologies to Andie MacDowell) the book has a main female character who isn't hopelessly miscast but is instead a gorgeous and self-assured woman for our times.
Every week Stephanie reviews the Book of the Week.
As the Coast book reviewer, Stephanie Jones shares her thoughts each week on the latest releases.
Stephanie has a BA (Hons) in history and English literature, and a background in journalism, magazine publishing, public relations and corporate and consumer communications.
Stephanie is a contributor to the New Zealand Book Council's 'Talking Books' podcast series (listen here), and a member of the 2016 Ngaio Marsh Award judging panel. She can be found on Twitter @ParsingThePage.

Take your Radio, Podcasts and Music with you