Stephanie Jones Book Review: Let Me Lie
Publish Date

Thursday, 29 March 2018, 4:24PM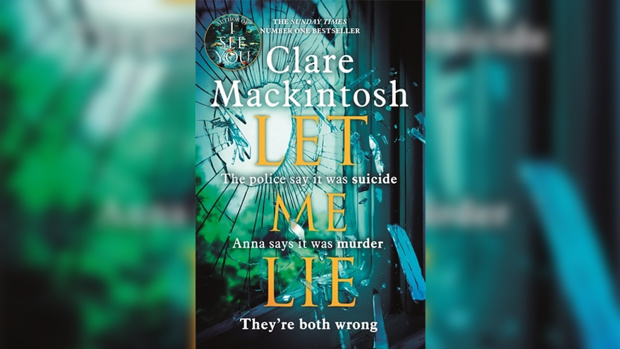 You don't have to get very far into Let Me Lie, the scintillating third psychological thriller by Britain's Claire Mackintosh, to appreciate the double meaning of the title.
At just 26, Anna Johnson has been abruptly orphaned by the suicide of both her parents, several months apart, at the notorious plunge point of Beachy Head, and she has too many questions to let them go, let them rest in peace. But then, on the first anniversary of her mother's death, Anna receives an unsigned card with a typed message, Suicide? Think again. Someone is lying, and Anna can't leave it alone.
The taglines on the cover are just as vivid as its image of a shattered window
The police say it was suicide
Anna says it was murder
They're both wrong
Genre buffs will thrill to the puzzle, but I defy anyone to quickly land on the answer, which is inspired, Mackintosh says in an afterword, by a thorny and exceptional real-life case of a missing man and his wife. As to the fates of Tom and Caroline Johnson, there are only so many options – kidnapping, extortion, deaths faked for money – but suspicions of financial strain are seemingly quelled by Anna's inheritance of a mortgage-free Eastbourne house, a hefty life insurance policy and a share in her father's car dealership, now run by her paternal uncle, Billy.
The trick to breaking the code of a thriller is to look at the narrator – is she as reliable as she seems? – and the supporting cast, among whom there has to be a bad egg. But it's a tight-knit group with a child at its centre: Ella is the newborn daughter of Anna and Mark, the grief counsellor she met after Caroline's death who stood aside professionally in favouring of wooing her. For their entire relationship, Anna's grief "has been as present as another person in our lives", and she fears that if she moves on – or learns her grief was misplaced – they'll lose their anchor as a couple.
Anna has a narrative double, of sorts, in Murray Mackenzie, a 60-year-old retired detective who starts poking around the case – already officially put to bed by the coroner – after Anna presents the mysterious card, which she insists is proof of murder. Murray is an extremely effective character – wise, professionally savvy and unexcitable – and an ideal stand-in for the reader, for he is motivated not by crimes but by people: "Victims, witnesses, even offenders – they'd all fascinated him . . . the mysteries in their lives."
Mackintosh is an unusually deft practitioner in a realm of literature that draws in the very crafty. It's hard to take a reader aback when they are standing, feet planted firmly, anticipating a twist, but she does so by playing with voices and perspectives and the simplest of details surrounding Anna's family. Nearly every chapter thrums with instability and uncertainty, even horror: the empty liquor bottles Anna finds secreted in her parents' home; Murray's ritualistic visits to his mentally ill wife, Sarah; a rabbit disembowelled upon a doorstep and a handbag placed carefully at the top of a cliff.
Let Me Lie is the work of an adept storyteller, and its excellence will come as no surprise to readers of Mackintosh's earlier novels, the maternal-guilt nightmare I Let You Go and the stalking drama I See You. The repetition of the personal pronoun in each title signals Mackintosh's trademarks – discomforting intimacy and microscopic exactitude. In the worlds she creates, no one gets off lightly.
To be in to win a copy of Let Me Lie CLICK HERE.
Every week Stephanie reviews the Book of the Week.
As the Coast book reviewer, Stephanie Jones shares her thoughts each week on the latest releases.
Stephanie has a BA (Hons) in history and English literature, and a background in journalism, magazine publishing, public relations and corporate and consumer communications.
Stephanie is a contributor to the New Zealand Book Council's 'Talking Books' podcast series (listen here), and a member of the 2016 Ngaio Marsh Award judging panel. She can be found on Twitter @ParsingThePage.

Take your Radio, Podcasts and Music with you