Stephanie Jones Book Review - Little Fires Everywhere
Publish Date

Thursday, 21 September 2017, 11:56AM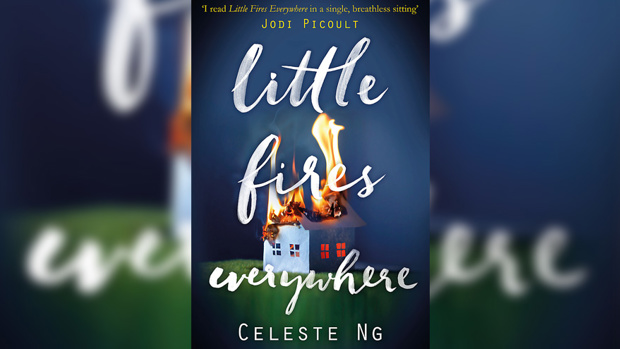 Author

By Stephanie Jones
"Every house on Winslow Road held two families, but outside appeared to hold only one." In the dazzling Little Fires Everywhere, which opens with a burning house and traces the blaze to its ancient inception, Celeste Ng explores the homes and lives of the residents of Shaker Heights, a planned suburb of Cleveland, Ohio, with an anthropologist's zeal and a raconteur's instinct for story and colour. The acute observations of the idiosyncrasies of Shaker Heights, which was founded on utopian ideals, have been formed honestly; Ng grew up there, and in Pittsburgh, Pennsylvania.
As its title suggests, Little Fires Everywhere is incendiary, chiefly because of its women, who contain multitudes – fierce intelligence, rampant creativity, adventurousness, curiosity and desire, fear and anxiety. They are superbly crafted: startlingly articulate, bursting with life, mesmeric. There is 36-year-old Mia, a peripatetic artist who has been on the road for all of her daughter Pearl's 15 years, until the two land – for a while, it's intended – in a rental home in Shaker Heights.
That property is owned by the well-to-do Richardson family: Bill, a defence lawyer, Elena, a reporter for the local paper and another of the novel's resonant women, and four children, the youngest being Izzy, a "wayward, wild, fiery girl" with "the heart of a radical" who recognises Mia as a kindred spirit and rouses a nameless ire in Elena, whose reverence for order and obedience hides – even from herself – a yearning for more.
Then there is Izzy's older sister, Lexie, a clever, Yale-bound drama student with a similarly high-achieving boyfriend, the son of a couple he calls "the Cosbys" for their resemblance, in status and success, to TV's Huxtables. The biracial relationship is just fine in deliberately tolerant Shaker Heights, until the best-laid plans go awry.
The crises afflicting the novel's women occur at the intersection of fertility, race and identity. Most directly, Mia and Elena are drawn into conflict when a colleague of Mia, a young Chinese woman who abandoned her baby in extremis, seeks Mia's help to reclaim the child from her foster parents, friends of the Richardsons who mirror that couple in every respect except the ability to reproduce. Familial loss is the novel's most powerful through-line, as Ng shows how ephemeral, even meaningless, blood ties can be.
It was said of F Scott Fitzgerald that he couldn't write badly on a bet, and I tend to think the same of Ng, whose magnificent prose and smooth dialogue is matched by an impeachable sense of plot and character and a satisfying thematic unity. Elegant, delectable turns of phrase are everywhere; Pearl, stung by an act of carelessness on Lexie's part, responds to a question from Lexie "with the caution of the recently singed."
A Chinese-American, Ng has earned comparisons with Zadie Smith, and that's fair; both writers have channeled their experiences of being raised in wealthy nations by immigrant parents into literature which addresses race, place and identity. But Ng's sense of the absurd makes for a stronger likeness to the writing of her compatriots Gabrielle Zevin and the hilariously provocative Alissa Nutting, whose latest novels, Young Jane Young and Made for Love respectively, should be considered companion reading for the inarguably essential Little Fires Everywhere.
To get in the draw to win one of five copies of Little Fires Everywhere click here.
Every week Stephanie reviews the Book of the Week.
As the Coast book reviewer, Stephanie Jones shares her thoughts each week on the latest releases.
Stephanie has a BA (Hons) in history and English literature, and a background in journalism, magazine publishing, public relations and corporate and consumer communications.
Stephanie is a contributor to the New Zealand Book Council's 'Talking Books' podcast series (listen here), and a member of the 2016 Ngaio Marsh Award judging panel. She can be found on Twitter @ParsingThePage.

Take your Radio, Podcasts and Music with you