Stephanie Jones: Book Review - Love You Dead by Peter James
Publish Date

Tuesday, 16 August 2016, 12:00PM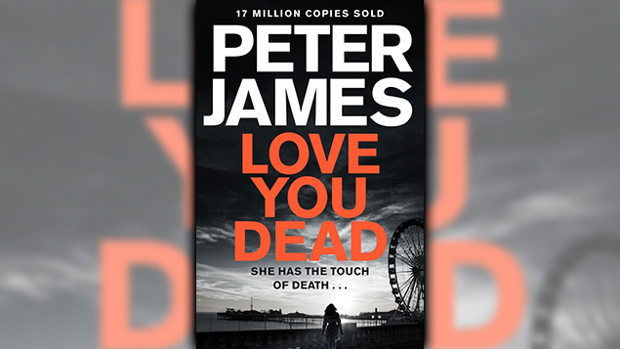 A black widow who uses tropical snake venom to dispatch her wealthy husbands is the villain of Peter James's Love You Dead, the 12th instalment in the series helmed by Detective Superintendent Roy Grace. Jodie Bentley is also the fly in the ointment of a crime novel whose intriguing subplots are undermined by a thin and unconvincing main storyline.
Jodie is a self-made woman in every sense. An ugly duckling in adolescence, she contrasted unfavourably with her sister Cassie, whose fatal tumble off a cliff was ruled accidental (no spoiler, this; Jodie's narcissism and venality are never in question). Having reinvented herself as a beautiful and highly eligible woman in possession of augmented breasts and a chiseled face, Jodie commits the well-planned and bloodless execution of her investment manager husband of a few months, Walt Klein.
The death looks like a skiing accident, and as Walt's legal wife, Jodie is in the money – until the executor of his estate informs her that Walt was under federal investigation for Ponzi scheming. His death is being assessed as a possible suicide, which would void any life insurance policy. What's more, Jodie might be on the hook for her late husband's liabilities.
That's the last we hear of that dim threat, and the dauntless Jodie – who, bizarrely, wants a "real" husband and children, she just has to get herself set up first – is on to the next, and how! Suspension of disbelief is one thing, but James asks the reader to accept a serial killer who advertises for rich men on websites called seekingmillionaire.com and typically kills using the same distinctive MO.
As to why a wealthy chap with all his marbles would date online and marry his consort weeks after meeting her, search me. (In a recent interview, Clint Eastwood addressed his complicated personal history in describing the long pause from his lawyer when Eastwood would announce his latest engagement: "You know damn well they're thinking, 'How are we going to set this up, and then how are we going to dissolve this?'")
If the world of Love You Dead is one in which pre-nuptial agreements don't exist and those who have the most to lose are the least self-protective, a proper bad guy surfaces in Tooth, a career hitman living with a dog named Yossarian somewhere in the Caribbean. His Eastern European masters task him with hunting down Jodie when she makes off with the cash, drugs and critical electronic records being held by one of their bagmen in a New York hotel. Grace is simultaneously set on Jodie's trail by the death of her latest husband, an art dealer with his own collection worth tens of millions. Cause of death is the venom of a saw-scaled viper.
James comes into his own when he brings the nitty-gritty of criminal investigation to the fore. There is the diligent pathologist who examines every square centimetre of a corpse and detects the tiniest pinprick; the reptile expert; the forensic podiatrist who applies forensic gait analysis to pick a suspect out of a swarm of people recorded on grainy CCTV.
Grace is as clear-minded and redoubtable as ever, and unerring in his practice even as he recovers from a gunshot wound sustained in a stand-off with a serial killer. The perpetrator remains at liberty, and that unfinished business is compounded by more involving his first wife, which threatens the stability of his life with Cleo and their young son. Through it all he remains in command, and the grace of Grace goes a long way toward smoothing out a knotty and uneven story.
Take your Radio, Podcasts and Music with you