Stephanie Jones: Book Review - Making It Up As I Go Along by Marian Keyes
Publish Date

Thursday, 21 January 2016, 9:32AM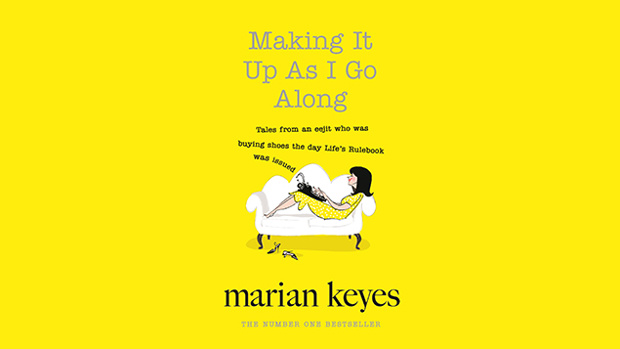 Author

By Stephanie Jones
Maybe it's not what she intended, but at the close of Marian Keyes's new collection of essays, Making It Up As I Go Along, I concluded that the author is an uncommonly brave woman. This isn't to be patronizing or happy-clappy; I doubt Keyes is inclined to indulge in either behaviour, being the type of person who, as she reveals in one story, returns to apologize to a hotel parking attendant to whom she'd spoken snappishly.
Keyes' courage stems from her disinclination to dwell on the more brutal episodes in her personal history in the stories that comprise Making It Up As I Go Along, most of which were published previously in newspapers and magazines and on her blog. After earning a law degree from Dublin University, Keyes moved to London and spent a decade drinking alcoholically before attempting suicide and recovering at a clinic in Ireland. Sober since, she continues to manage chronic anxiety and a propensity for depression that manifested earlier this decade in a prolonged nervous breakdown, to use the decommissioned term Keyes prefers.
Making It Up As I Go Along suggests that Keyes remains resolute in her purpose: to entertain above all else. Its subtitle, 'Tales from an eejit who was buying shoes the day Life's Rulebook was issued', is trademark self-deprecation and betrays a notion, alluded to in several essays, that Keyes missed out on some essential piece of human engineering that might have shielded her from destructive compulsions. As she writes in 'My Chanel Nail Varnish Museum', "I've no end of addictions: alcohol, sugar, Twitter, sleep, box sets, spending money . . . I could probably get addicted to paper bags if I put a bit of effort into it."
In another story, she references her rehab spell as a consequence of becoming "a little too fond of the Jacob's Creek." Depths of misery are merely hinted at, and optimism is the order of the day, most markedly in the first section, '(Bad) Health and Beauty', which has Keyes declaring, at the end of a treatise on her love of nail varnish, that "We take our pleasure where we can."
Though her fiction addresses themes including alcoholism and intimate-partner violence, Keyes has always shied from the didactic and leaned in to Irish whimsy, which in her distinctive voice is refreshing and uplifting but never pat or mocking. She suffers from persistent anxiety about calories, and describes her boundless bodily mortification down to the last stubborn leg hair, but Making It Up As I Go Along rises as Keyes escapes from her interior life and recounts her travels and gatherings with her parents, siblings and close friends, a tightly bound group.
'Driving Home for Christmas' has Keyes remembering herself as a penniless, callow 23-year-old journeying by train and boat from London to Dublin. Melancholic, nostalgic and somewhat rueful, it's a stark and reflective piece of writing whose emotional jolt is balanced by 'What's Right with Christmas', which describes that rare thing in literature – a happy, affluent-enough Irish family operating at "maintenance-level dysfunctional . . . elastic and accommodating". Elsewhere, she touchingly describes her gratitude at her warm reception by peers such as India Knight, and joyous encounters with idols Robert Plant and Aung San Suu Kyi.
Keyes' fame and success now reaches well behind her native Ireland, where she lives in Dun Laoghaire, following publication of a dozen bestselling novels, two previous non-fiction collections and a book about cake composed when she was immobilized by depression.
Making It Up As I Go Along constitutes a memoir of sorts, a decade's record of reflections and adventures by one of life's true survivors, who captures the frantic, the exotic and the madcap along with the domestic, where she recognizes the good fortune of her long marriage to Tony Baines, affectionately referred to as 'Himself'. It's not warts-and-all, and a collection of stories written over years can feel piecemeal, but Keyes' sincerity emanates from the pages and elevates the tales she tells.
Take your Radio, Podcasts and Music with you