Stephanie Jones: Book Review - On the Other Side by Carrie Hope Fletcher
Publish Date

Friday, 8 July 2016, 11:02AM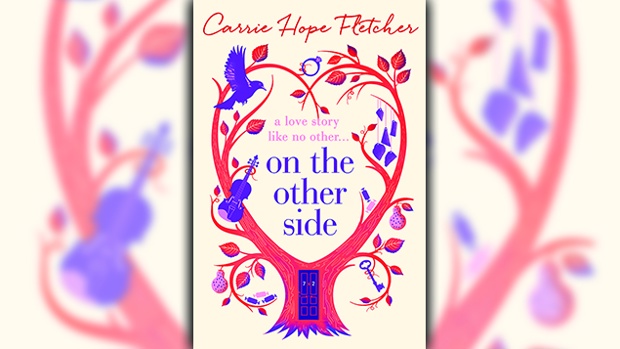 Author

By Stephanie Jones
A quirky love story that embraces the supernatural, On the Other Side is the debut novel of Carrie Hope Fletcher, an English artist of many colours who drew acclaim for her autobiographical, blog-inspired first book, All I Know Now. Read against the backdrop of Fletcher's variegated professional life, the kaleidoscopic presentation and philosophical bent of On the Other Side are unsurprising.
The story opens with a nod to the Kafkaesque, as 82-year-old Evie Snow dies peacefully in her sleep. On the other side, as it were, she is restored to her 27-year-old self and brought up to speed by Doctor Lieffe ('love' in his native Dutch), the doorman and general caretaker in her former apartment building, who paitakingly instructs Evie on matters of the soul (which, in this case, bow to the Christian tradition).
Spirits are dragged down by "man-made weights" – secrets, unexpressed emotions – that must be released in order to enter Heaven from Afterlife's Waiting Room, where Evie is currently stationed. The alternative is Hell, whose new entrants are collected in a procedure Lieffe declines to describe to a perturbed Evie.
The novel's mood of untetheredness is enhanced by an opacity of time and place. Octogenarian Evie may have lived in present-day Britain, but her 20s passed during a period when a young woman of good station was expected to marry accordingly, and to abandon any notion of a professional occupation. Evie's betrothed is Jim Summers, her childhood best friend for whom she feels nothing romantic. The Snow and Summers parents have made appropriate marriages that protect common wealth and are devoid of love, and they expect their offspring to follow suit.
At Evie's insistence, Eleanor Snow permits her daughter one year to cement a living, whereupon Evie finds work as an illustrator at a city newspaper and falls in love with the unsuitable Vincent Winters (notice a theme?), a 28-year-old bisexual musician. The relationship is intense and doomed, and as Lieffe explains, the baggage Evie must shed in order to breach the walls of Heaven holds the fullness of her life: her son and daughter, who know little of her history as a young lover and an artist; and her husband and life companion, who makes brave peace with the inequality of their mutual feelings.
On the Other Side is strikingly creative, humorous and saturated with warmth. It presents an assertive, rounded view of a woman coming to terms with the life behind her. Fletcher balances light and dark without being flippant or lazily Manichaean, and enlivens her story with flashes of vivid imagination, as when Evie carefully removes and buries her own heart, lest she give it away dishonestly. The organ fertilizes a fecund tree whose fruit proves to be an acquired taste.
The devil (who earns a mention here, though God does not) is in the details, though. The odd error is to be expected in a proof copy of the type I read, but rather too many mistakes had been allowed to persist at a late stage. A more disciplined editing process would have excised excessive adverbiage: the description of a law firm as "terribly successful"; the redundant part of the phrase "purposely ostracised" (are people exiled by accident?).
Whole sentences devoted to Evie's emotional hand-wringing could be done away with, the better to showcase Fletcher's strengths – an ability to rope in the free-floating fantastical and bring it down to Earth, and a precise sense of just the right moment to inject some joie de vivre and lift her heroine out of the mire.
Take your Radio, Podcasts and Music with you