Stephanie Jones Book Review: One Way
Publish Date

Thursday, 19 April 2018, 11:55AM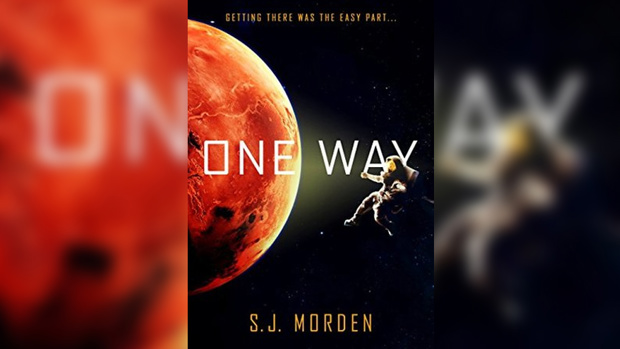 Die in a grim prison on Earth, or live out the rest of your life on Mars in a sophisticated facility made by your own hands. That's the choice offered to Frank Kittridge in One Way, a bold but wobbly thriller by S J Morden, who should be lauded for the pure audacity of the premise. It's around 2040 and Frank is doing 120 years for shooting the man who sold drugs to his son. At 51, he's been inside eight years so far, and that's his lot – there will be no second chances in this American life. Until a private company comes knocking; it has been contracted to build NASA's permanent base on the red planet, and it wants to recruit Frank to an eight-strong crew of convict workers.
Why prisoners? Wouldn't they be among the least trustworthy civilians and be associated with a higher risk of a spate of unexplained deaths, as goes on to happen? If you're wondering that, so is Frank, who is told that Xenosystems Operations, the unholy corporation that owns the future of space travel, can only do so much risk minimisation, and when talented young law-abiders with university degrees die on experimental space missions, it's bad PR. Frank and the seven other cons chose to go with him are the primates in the Soviet rockets.
On Mars (the eight-calendar-month trip there, during which the travellers are placed in suspended animation, is glossed over; readers with expertise in astrophysics or other sciences are strongly advised) an XO functionary named Brack is responsible for managing the group, which he openly regards as "a mix of killers and perverts and the just-too-stupid-not-to-get-caught." The prisoners must divvy up tasks ranging from habitat construction to food production, and again, the notion that eight cons would a) have the skills for the work and b) be given responsibility for a mission worth trillions, with only a sociopath standing between them and his employer's investment, is beyond incredible.
The softness of the plot – poke it just about anywhere and you'll plunge through the hole – means that when the body count starts rising, it hardly registers. Morden has set One Way up as a murder mystery, but apart from Frank, none of the characters is rounded enough to resonate, and the childish nicknames they use for each other – a "neo-Nazi man-mountain" is referred to as Adolf, another is called Moon-face – don't help. The convicts include a doctor imprisoned for a spate of mercy killings and a woman who killed 26 people in what she calls an accident, and more exploration of their backstories would have added some much-needed depth.

As it stands, the novel is more a picture of corporate hegemony and dispassion – the XO plan allows for 25% "crew attrition" due to fatal or incapacitating accidents – than a psychological thriller, and the overtones of drug abuse, with America's current opioid crisis extending all the way into deep space, are uncomfortably plausible. But generally speaking, no other work of crime fiction will demand more of your capacity to suspend disbelief. Succeed in this effort, and enjoy One Way for its galactic daftness.
To be in to win a copy of One Way click here.
Every week Stephanie reviews the Book of the Week.
As the Coast book reviewer, Stephanie Jones shares her thoughts each week on the latest releases.
Stephanie has a BA (Hons) in history and English literature, and a background in journalism, magazine publishing, public relations and corporate and consumer communications.
Stephanie is a contributor to the New Zealand Book Council's 'Talking Books' podcast series (listen here), and a member of the 2016 Ngaio Marsh Award judging panel. She can be found on Twitter @ParsingThePage.

Take your Radio, Podcasts and Music with you