Stephanie Jones: Book Review - Queen Bees by Sian Evans
Publish Date

Thursday, 13 October 2016, 1:31PM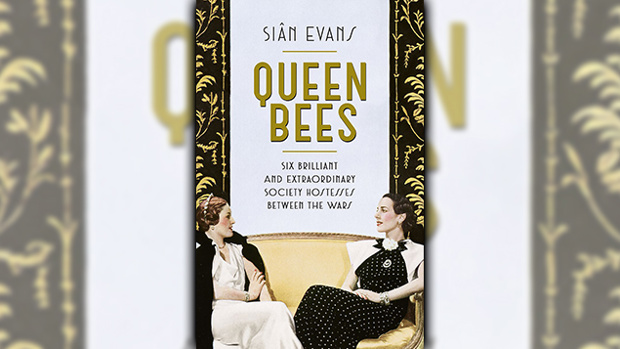 A typical amusement in Queen Bees, a dishy, intimate portrait of six influential society hostesses in interwar Britain, is an anecdote about Queen Mary, who maintained a punishing schedule of morale-boosting visits to soldiers injured in the Great War. "On one such visit, overhearing one of her entourage muttering, 'I'm tired and I hate hospitals', the Queen replied crisply: 'You are a member of the British Royal Family. We are never tired, and we all love hospitals.'"
Cultural historian Siân Evans records the progress of the six women at an unprecedented moment, and pointedly identifies their commonalities – a knack for marrying well, overweening ambition – and the often surprising differences in their attitudes to love, marriage, fidelity, motherhood, work and politics.
The most prominent of the women, who did not operate as a group but often vied for the company of the powerful and celebrated, was Nancy Astor (née Langhorne), a genteel figure raised with American wealth who became the first woman MP in the House of Commons. At the other end of the socioeconomic spectrum was Laura Corrigan (Whitrock) who vaulted out of her small Wisconsin town into an advantageous marriage to a wealthy playboy.
The other four women likewise had a talent for either preserving the advantage of their birth or compensating for the lack of it. The illegitimacy of Margaret Greville (Anderson) was all but erased by her union with Ronnie Greville, a close friend of the Prince of Wales. Lady Emerald Cunard (Maud Burke) benefitted from wealthy protectors before marrying, at 23, the 43-year-old baronet Sir Bache Cunard.
Lady Edith Londonderry (Chaplin) and Lady Sibyl Colefax (Halsey) were, like Margaret Greville, British by birth. The former, a blue blood, cemented her future role as a consummate political hostess by marriage to the man referred to by his cousin Winston Churchill as "that half-wit Charley Londonderry"; the latter rebounded from an insecure childhood with the respectability of marriage to Oxford-educated Arthur Colefax, a barrister nine years her senior.
In Evans's telling, the royals were magnets to which every member of the sextet was drawn. Margaret Greville was shameless in her cultivation of George V and Mary, and earned favourite-aunt status through a substantial monetary gift to the stuttering Bertie (later George VI) and her engineering of his marriage to Elizabeth Bowes-Lyon.
Wallis Simpson remains one of British history's most mesmerizing and enigmatic figures, and there was open Queen Bee competition for her affections. Emerald Cunard was blackballed for her fateful introduction of the future king to the divorcée, but Sibyl Colefax, the only member of the six to fall on hard financial times, stayed close to the exiled couple.
Mistakes were made, of course. Presentism is an awful quality in an historian, and Evans shows no sign of it as she presents evidence of the women's collective acquiescence to, even approval of, fascist regimes, their snobbery sometimes hardening into bigotry. Emerald Cunard's always troubled relationship with her daughter Nancy ended completely over Nancy's liaison with a "negro", and anti-Semitism was more casual but no less latent than in 1930s Germany.
Yet Edith Londonderry was a suffragist and an instigator of the Midwives Act 1936, and Evans makes a convincing case that the influence exerted by the Queen Bees brought about real social and legislative change that benefitted women of all classes. And not only women; amid the upheaval of war, Laura Corrigan showed courage and cheek by selling many of her jewels to Herman Goering and using the money to support the Allies in France.
The central theme binding the six subjects – how the social revolution wrought by the Great War allowed the women to vault customary obstacles to attain social prominence, economic privilege and political influence – is an effective unifier. Fealty to this through-line makes Queen Bees neither an exhaustive piece of historiography nor a comprehensive biography but a well-researched, engrossing and appealingly gossipy portrait of a social class within a class.
Take your Radio, Podcasts and Music with you