Stephanie Jones Book Review - Seven Days of Us
Publish Date

Thursday, 30 November 2017, 11:57AM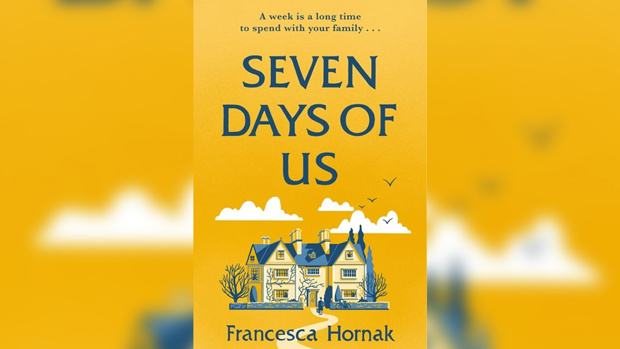 Author

By Stephanie Jones
Christmas is a time for family, but probably not in the way Francesca Hornak portrays it in her mostly charming, occasionally madcap novel Seven Days of Us. Thirty-two-year-old doctor Olivia Birch, the elder of two sisters, returns from a medical tour of duty in Liberia, where she was treating a deadly viral contagion, with instructions to go into quarantine for seven days. If they are to spend Christmas as a family in their second home in rugged Norfolk, the Birch parents, Andrew and Emma, and Olivia's newly engaged sister Phoebe will have to go into lockdown too.
This is rather more close contact than any Birch, save the smothery Emma, feels is necessary. Andrew wanted a son and was disappointed at the birth of Olivia; but in Phoebe he found a kindred spirit, and Olivia's choice to pursue her vocation in far-off lands is a reaction to her father's emotional distance rather than a cause of it.
Tonally, Seven Days of Us is hard to pin down: it's a little Love Actually, a little When Breath Becomes Air. The conceit of a nuclear family of four trapped in a ramshackle exclusion zone – Emma, an aristocrat by birth, is proud of the shabby-chic aesthetic of her ancestral manse and rejects any proposal of improvement – and taking extreme care in what they say to one another is well handled by Hornak, who relies on a series of contrivances to introduce the peripheral characters who will ultimately blow each Birch's cover.
The quartet is collectively harbouring several secrets, two of them as serious as secrets get. The following are the mildest of spoilers, for they are introduced as plot points in the opening pages: shortly before the family reunites, Emma learns that a lump in her armpit is a symptom of non-Hodgkin lymphoma; and Andrew receives an email from a young American man, Jesse, announcing himself as the product of a brief encounter Andrew had with his mother during Andrew's tenure as a Middle East correspondent for The Times in the late 1970s. He'd like to arrange a meeting.
The Birch marriage has been hollowing out for some time, and neither spouse shares their news with the other. Andrew knows Jesse is legitimate – in a manner of speaking – because of an earlier email he received from Jesse's dying mother. Andrew, now an acerbic restaurant critic in the style of A A Gill, and Emma are chalk and cheese, and Hornak makes good use of contrary personality types: Andrew's haughtiness and Emma's eagerness to please; Olivia's outsider status – she wonders how, after managing an epidemic treatment centre, her family can make her feel 14 again – and Phoebe's staunchly defended role as princess.
The most interesting dynamic is that between Jesse and George, who proposes to Phoebe with straight-from-the-catalogue ostentatiousness that promises an unhappy future, should the couple choose to ignore the red flags. Andrew, who doesn't care for much, dislikes George for his "painfully conventional worldview", but a milquetoast exterior hides something even George himself can't bear to examine, and the subplot shows Hornak's sensitivity and remarkable gift for subtlety, when she chooses to exercise it – in general, every momentous piece of news is delivered as an Accidental Shocking Revelation, with Pandora's boxes blowing open like confetti canisters.
The set-up means that few of the plot developments will come as a surprise, but Hornak writes with a lightness and levity that makes even the gravest of subjects palatable, and gives Seven Days of Us a distinct spark.
To get in the draw to win one of five copies of Seven Days of Us click here.
Every week Stephanie reviews the Book of the Week.
As the Coast book reviewer, Stephanie Jones shares her thoughts each week on the latest releases.
Stephanie has a BA (Hons) in history and English literature, and a background in journalism, magazine publishing, public relations and corporate and consumer communications.
Stephanie is a contributor to the New Zealand Book Council's 'Talking Books' podcast series (listen here), and a member of the 2016 Ngaio Marsh Award judging panel. She can be found on Twitter @ParsingThePage.

Take your Radio, Podcasts and Music with you