Stephanie Jones Book Review - Strange Weather
Publish Date

Thursday, 16 November 2017, 11:44AM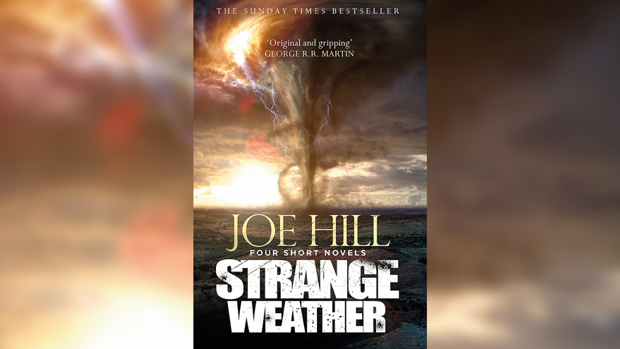 Author

By Stephanie Jones
The novella, as Joe Hill says in the afterword to Strange Weather, his collection of four short novels linked by grace notes of climatic violence, is "all killer, no filler", with the economy of the short story but the depth of characterisation usually found in longer works.
Strange Weather's exemplars of the form begin with "Snapshot", a man's flashback to his life-threatening adolescent showdown with a cameraman he calls the Phoenician, who wields a Polaroid-style weapon imbued with some unholy power. Unfolding in a steamy, thunderous California summer in the late 1980s, the story thrums with a dark energy and rides easily on the shoulders of Michael Figlione, an unlikely conqueror of a menace so shapeless and inchoate it doesn't have a name. The only bum note is a tacked-on final chapter that waters down what would have been a terrific ending.
The collection's best entry is its longest, an uncommonly chilling tale titled "Loaded", which sprang from the massacre of 20 children in Newtown, Connecticut and is Hill's "attempt to make sense" out of America's gun obsession. It's also a call-out to Trayvon Martin, Eric Garner, Amadou Diallo and every other unarmed, fallen male whose crime amounted to being in public, in America, with dark skin.
In a 1993 prologue, Aisha Lanternglass's stepbrother succumbs to that fate; 20 years later, a multiple shooting in a Florida shopping mall turns out to warrant closer investigation from law enforcement than it initially receives. Aisha is the dauntless local newspaper reporter covering the case of Randall Kellaway, whose hero-security-guard face is a thin mask atop a personality-disordered misanthrope with a void where his conscience should be.
"Aloft" demands that you suspend disbelief high up in the clouds, alongside Aubrey Griffin, a musician who goes skydiving in Ohio and fails to land on earth. He fetches up on a UFO-shaped cloud that has the density of raw bread dough and manifests his fantasies, most powerfully the woman he has worked with and lusted after for years. As in "Snapshot", Hill sidesteps conflicts with physics and common sense by placing an immensely appealing almost-Everyman in an impossible position and willing him to Houdini his way out. Spoiler: Hill likes it when the good guys win.
The climate is supposed to be the central theme connecting all four stories, but strange weather is not at its most hostile and deadly until the final novella, "Rain", in which a storm drops killer needles upon an unsuspecting populace, and gathers murderous intensity as it heads across the continent. Imagine if any time it rained, the death toll would be in the thousands? This is Hill's notion as "twenty-three-year-old Joe Strummer lesbian lookalike" Honeysuckle Speck determines what malevolent force killed her girlfriend and innumerable others: climate change, industrial attack, terrorism, or something closer to home?
It's probably not always fun working in the same field as a Hall of Fame parent, and it must be irritating when a reviewer brings it up, but I hope Hill won't object to my doing so, because much of what there is to like about Stephen King's work is clear and present in Hill's: the subtle yet insistent sociopolitical themes; the keen eye and keener distaste for deliberate ignorance; the carefully aimed dry humour.
Most of all, Hill's penchant for enlivening inanimate objects to unsettling ends will be familiar – that demonic camera, that sentient cloud. As Randall Kellaway says plaintively to the local police chief about two of his many victims, "I feel like the gun wanted the both of them . . . Sometimes guns do kill people." Strange Weather is a strange and intoxicating trip.
To get in the draw to win one of five copies of Strange Weather click here.
Every week Stephanie reviews the Book of the Week.
As the Coast book reviewer, Stephanie Jones shares her thoughts each week on the latest releases.
Stephanie has a BA (Hons) in history and English literature, and a background in journalism, magazine publishing, public relations and corporate and consumer communications.
Stephanie is a contributor to the New Zealand Book Council's 'Talking Books' podcast series (listen here), and a member of the 2016 Ngaio Marsh Award judging panel. She can be found on Twitter @ParsingThePage.

Take your Radio, Podcasts and Music with you