Stephanie Jones Book Review: The Perfect Girlfriend
Publish Date

Thursday, 5 April 2018, 1:20PM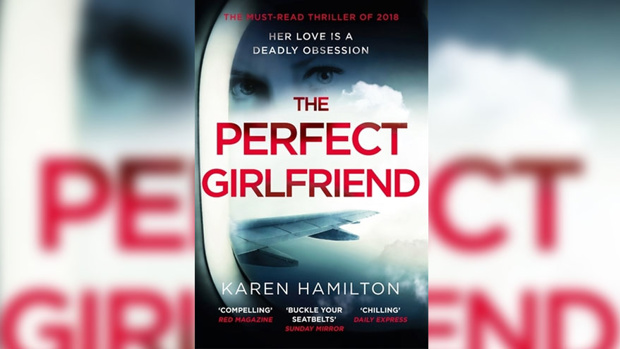 The first hint that Karen Hamilton's thriller doesn't follow predictable lines about female hysteria can be found in its title. The Perfect Girlfriend is the ideal moniker for a blackly comedic tale about a woman, known to some as Elizabeth and others as Juliette, whose obsession with her ex-boyfriend flowers into an absurdist fantasy with destructive consequences.
Nate is a pilot, and in his frequent absences Juliette moves unseen back into his life, letting herself into his London flat, hanging her clothes in his wardrobe, scrutinising the contents of his bathroom cabinet to gauge his state of health, stashing his favourite treats in his freezer. Then she gets a job as a flight attendant with his airline.
The apparent obliviousness of "Nate" to this onslaught against his privacy prompts the reader to wonder whether he is a product of delusion. But trust: Juliette's adeptness as a stalker doesn't translate to dishonesty as a narrator. Hamilton goes all-in on the psyche of a woman who can justify anything in pursuit of her goal, and The Perfect Girlfriend can be read both for its entertainment quotient – which is high – and for its insights into how someone with an abnormal or errant personality approaches the world.
Juliette has figured out how to perform normality and give the impression of bonding with others – "It's how friendships work: you share secrets" – and her recollection of her first encounter with Nate, at the hotel reception where she worked, betrays her unrealistic view of human relationships: "Nate had appeared in my life like a scene from a romantic novel . . . [he] looked as though he had absorbed the best bits of life and shrugged off anything unpleasant or sad."
The picture of a fractured personality deepens with the return of a high-school frenemy and an insatiable hunger for attention and admiration: "I want to be the sort of person who other people might glance at – in a restaurant, say, or even just taking the kids to the park – who people might aspire to be."
Again, performance in place of personhood, and if Hamilton sometimes gets too florid in her reinvention of cliché ("Revenge is a dish best served cold, and mine is going to be frozen"), she balances the extreme behaviour of the present with an exploration of the causes of Juliette's pathology, in a subtly told origin story where she revisits her childhood home for her mother's funeral. The signs were always there: when Nate ended their relationship, Juliette first refused to move out and then hid his passport so he couldn't go to work.
If I were to liken Juliette to a real person, it would be Lisa Nowak, the NASA astronaut who drove 1,400 kilometres from Texas to Florida, reportedly wearing adult nappies so she wouldn't have to stop, on a mission to kidnap a romantic rival. There are turns of plot nearly as hilarious and preposterous in The Perfect Girlfriend, and a fascinating arc of ambition and disintegration with plenty of real-life counterparts.
The ending will madden some and raise the spectre of Gone Girl's controversial conclusion, but The Perfect Girlfriend – billed in a cover line, predictably, as "the must-read thriller of 2018" – is unlikely to have much to match it this year as a rollicking story of ecstatic madness.
To be in to win a copy of The Perfect Girlfriend CLICK HERE.
Every week Stephanie reviews the Book of the Week.
As the Coast book reviewer, Stephanie Jones shares her thoughts each week on the latest releases.
Stephanie has a BA (Hons) in history and English literature, and a background in journalism, magazine publishing, public relations and corporate and consumer communications.
Stephanie is a contributor to the New Zealand Book Council's 'Talking Books' podcast series (listen here), and a member of the 2016 Ngaio Marsh Award judging panel. She can be found on Twitter @ParsingThePage.

Take your Radio, Podcasts and Music with you