Stephanie Jones Book Review: The Punishment She Deserves
Publish Date

Thursday, 12 April 2018, 2:22PM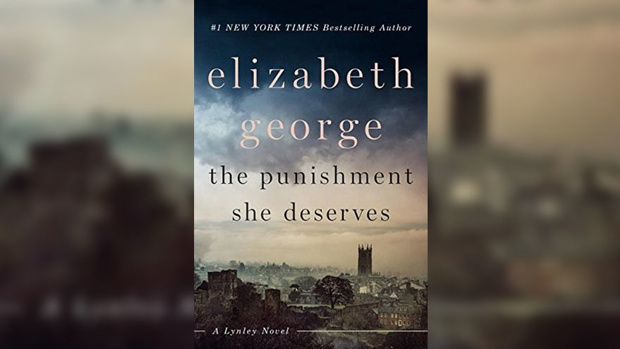 Revisiting some crime writers is like slipping into a warm bath on a stormy evening, and admirers of Elizabeth George's particular – thorough, verbose, brawny – brand of police procedural are likely to experience her latest novel, The Punishment She Deserves, as a welcoming embrace.
There are familiar figures: DCI Isabelle Ardery, a tightly wound, neatly coiffed professional who remains on tense terms with the talented but loosey-goosey DS Barbara Havers due to events in previous installments. The peacemaker is DI Thomas Lynley, whose independent wealth and posh title still come up in conversation after all these years, though his personal life is a lot happier these days. (Not so Ardery's, but we'll get to that.)
The primary plot is about an investigation of an investigation. An Anglican clergyman named Ian Druitt was picked up on suspicion of child molestation in Ludlow, and held in an unmanned police station, where he apparently hanged himself after a brief period in custody. The tip came in an anonymous phone call, and Druitt had until then been entirely unsuspected by a community that crowned him Man of the Year. Druitt's father, a successful businessman, has enough clout to push for a review of both the suicide finding and the suggestion that his son was a paedophile. Enter Ardery, Lynley and Havers.
Over 600 mostly essential pages, George feeds out strands of story and personality and gradually, dexterously, weaves them together. First the PCSO, or police community support officer, who picked up Druitt on the final day of his life needs looking at.
There is the Lomax family, three troubled generations led by matriarch Rabiah, whose granddaughter Missa sought counsel from Druiitt. The teenage boy suspected of placing the call may have been trying to draw suspicion away from himself, with the help of his mother. There could be reason to doubt the honesty of the pathologist who insists that Druitt's asphyxiation could only have been self-inflicted. During their initial review of the case, Havers speculates to Ardery that "someone was trying to get Druitt stitched up for something he didn't do" – and away we go.
The plot is like a forest clearing from which the reader can take one of a dozen winding paths back into the undergrowth, where something unexpected will be found. The best path to follow – the most harrowing and affecting – veers away from the Druitt storyline and deep into the tumult of Isabelle Ardery's life as a high-functioning alcoholic.
She rarely sees her nine-year-old twin sons, who live full-time with their father and stepmother. Ardery didn't challenge the terms of the custody agreement because her ex-husband would have brought up her drinking, and the family's occasional meetings are, one way or another, tainted by alcohol. By the time Lynley confronts Ardery ("You're fighting battles on too many fronts and you've begun to unravel"), her loss of control is nearly complete, and Ardery's mounting desperation – the unmanageability of her life, in recovery lingo – elevates an already very good crime novel.
George isn't a comic novelist in any traditional sense, but a reviewer would be remiss not to note her way with words, such as when a canny detective decides what not to tell her superior officer ("she didn't wish a fish from that kettle to go swimming in the waters of this conversation") and swiftly moves on to operational matters. The juxtaposition of mystery and subtle mirth is a George trademark and yet another reason she is best in class.
To be in to win a copy of The Punishment She Deserves click here.
Every week Stephanie reviews the Book of the Week.
As the Coast book reviewer, Stephanie Jones shares her thoughts each week on the latest releases.
Stephanie has a BA (Hons) in history and English literature, and a background in journalism, magazine publishing, public relations and corporate and consumer communications.
Stephanie is a contributor to the New Zealand Book Council's 'Talking Books' podcast series (listen here), and a member of the 2016 Ngaio Marsh Award judging panel. She can be found on Twitter @ParsingThePage.

Take your Radio, Podcasts and Music with you