Stephanie Jones Book Review - The Stakes
Publish Date

Wednesday, 28 February 2018, 12:55PM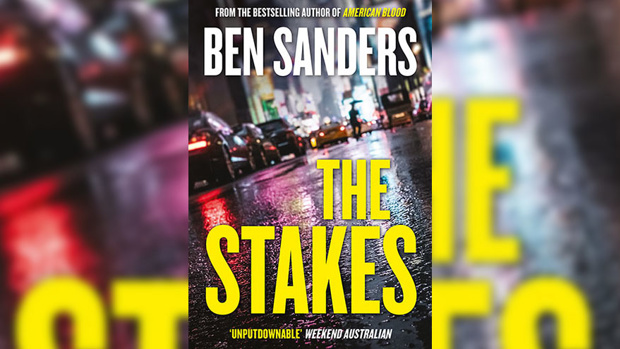 Author

By Stephanie Jones
Following his early work, a well-received crime trilogy set in his Auckland hometown, Ben Sanders drew the notice of American publishers. He made a deal that has latterly produced a new series, with American Blood and Marshall's Law tracking the escapades of a former undercover New York cop, Marshall Grade, in a variety of United States settings. Sanders is a ferocious writer of action with masterful control of pace and tone, but Grade's dark evasions, so thrilling and elaborate in his first outing, had by the second become the tiniest bit staid, and too reminiscent of the nomadic thumper of villains Jack Reacher.
Sanders is so rounded and confident a storyteller that this is a churlish micro-criticism (and Marshall's Law was rightly shortlisted for the 2017 Ngaio Marsh Award), but it meant that I approached The Stakes, Sanders's first standalone novel, wondering if the author had found somewhere new to venture.
Spoiler alert: he has, not least by introducing Miles Keller, who possesses a rare form of literary charisma and a heavy certainty, he tells a colleague late in the novel, about where his life is going: "Every time you rip someone off, it's just another chance that something'll come back at you. And then eventually the stakes get pretty high."
Playing with fire doesn't begin to describe it: Keller, a suspended NYPD detective under investigation for the shooting of a hitman named Jack Deen, has been maintaining a sideline in heists for years.
After a prologue in which a bank robber and one-time Keller love interest, Nina Stone; Deen's cousin Bobby, also a hitman; and their mark take a California boat trip from which the unnamed man will not return, Keller makes his debut in an upscale neighbourhood outside New York City where the homeowners, who are secreting hundreds of thousands of ill-gotten dollars, realise too late that he isn't "just some guy in a suit" but a thief with state-sponsored skills.
The imbalance between Keller's choices and his conscience is becoming harder to ignore – he wonders how many times he's "been the worst moment of someone's life" – and when Nina comes back around with a job offer, he calculates that he can cash in and clear out with Lucy Gates, the confidential informant he loves (in Sanders's narrative universe, no one is pure). A subplot that heightens the stakes has Bobby pursuing Nina at the behest of Charles Stone, a man irked by his erstwhile wife's plot to sell his business interests without his knowledge. The whole cast is a delight, especially Wynn Stanton, who brings crew and jobs together in a specialist role Keller calls "talent agent".
It's not only Keller and Stanton who stand out. Sanders's writing, always high-calibre, has grown deeper, enriched by colourful minutiae like Stanton's nose, which "bore capillaries so intricate they'd be a marvel if they were there on purpose." It's a description worthy of Michael Connelly, another close observer of big-city malfeasance, and like the best crime writers, Sanders issues what look like sly call-outs: his use of "copacetic", a favourite word of James Lee Burke's, hints at his American influences.
Sanders also shares Connelly and Burke's noir-ish inclinations and, having moved his point of interest thousands of kilometres away from his original stomping ground,  he seems utterly at home. If Keller's hard-boiled carapace disguises an enticingly soft centre, the same is true of The Stakes.
To get in the draw to win one of five copies of The Stakes click here.
Every week Stephanie reviews the Book of the Week.
As the Coast book reviewer, Stephanie Jones shares her thoughts each week on the latest releases.
Stephanie has a BA (Hons) in history and English literature, and a background in journalism, magazine publishing, public relations and corporate and consumer communications.
Stephanie is a contributor to the New Zealand Book Council's 'Talking Books' podcast series (listen here), and a member of the 2016 Ngaio Marsh Award judging panel. She can be found on Twitter @ParsingThePage.

Take your Radio, Podcasts and Music with you