Stephanie Jones: Book Review - The Stars Are Fire by Anita Shreve
Publish Date

Friday, 28 April 2017, 12:30PM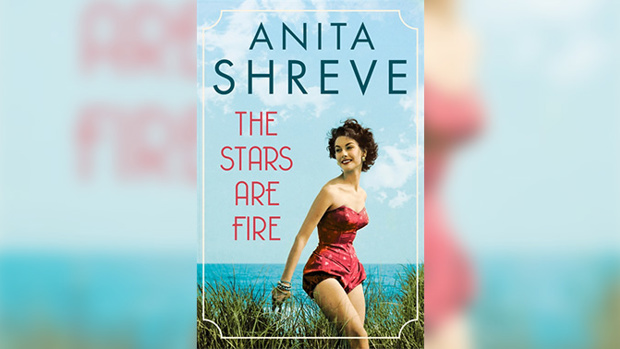 Author

By Stephanie Jones
"I have always depended on the kindness of strangers," goes the famous Tennessee Williams line. And though Grace Holland, the heroine of Anita Shreve's The Stars are Fire, is a Northeasterner some years younger than the tragic Southern belle Blanche Dubois, she likewise falls into an invidious position – not for any lack of care from strangers, but because, in an era when a married woman is utterly dependent on her husband, Grace finds no benevolence in hers.
Later Grace will write to her best friend Rosie: "With the war ended, we thought all danger was behind us. Nothing ahead but prosperity and children growing older." By then, Grace and her two young children have survived "a fearful and exquisite disaster", the 1947 fire which ravaged the coast of Maine. Gene Holland is missing, presumed dead. But in the short years of its unity, the life of the family was almost idyllic, with long days at the beach and Grace's physical labours eased by such luxuries as a wringer-washing machine.
What becomes a domestic noir is also a close reading of a young woman's interior life. Grace is poorly schooled about sex, and is at first dissatisfied and then disturbed by her husband's approach to marital relations. Looking back at their courtship after an ellipsis in their marriage, she cannot recall any exchange of endearments. Later she will be given a reason for his conduct, but the couple's failure to communicate is revelatory and final.
After the fire, a homeless Grace allows a voice to the misgivings she's always harboured. With no knowledge of Gene's whereabouts or wellbeing, but a conviction that her husband is deeply troubled, she knows "[h]e might have seen the fire as an excellent portal to another life." Grace's own portal comes with Gene's inheritance, the Maine home of his late mother, who openly detested her daughter-in-law. There, in a bid for true romance, Shreve places one of two potential love interests for Grace, a musician named Aidan Berne who has been squatting since the disaster and playing the house piano.
Another eligible bachelor is a doctor, John Lighthart, who offers Grace a role as his receptionist. They cover for each other to please the mores of the day: posing as brother and sister, Lighthart negotiates a car purchase for Grace, while she secures him room and board near his clinic.
Like Marilynne Robinson and Alice Munro, Shreve mines minutiae and often strikes gold. As a child Grace lost her lobsterman father when he went overboard in the deep freeze of January and died almost instantly of shock and cold. Year-round, the water is so inhospitable that few men in the industry ever learn to swim. When Grace meets tragedy anew, she gleans the facts of Maine's catastrophe from newspaper reports (which accord with historical records, and Shreve notes Joyce Butler's Wildfire Loose as a reference text. Six towns were completely destroyed, and Halloween was banned in the state of Maine).
For some readers, Grace's remoteness will lend The Stars are Fire a forbidding, even offputting, tone. Others may find the change in direction, from external disaster to household peril, too acute, or the ending twee. But Shreve makes some bold narrative choices, not least in smashing her heroine's domestic mould. As the story begins, Grace's widowed neighbour warns the young housewife to treasure her husband, because "[l]ife's too damn hard without one." In this novel, going it alone is a privilege.
To get in the draw to win one of five copies of The Stars Are Fire by Anita Shreve click here.
Every week Stephanie reviews the Book of the Week.
As the Coast book reviewer, Stephanie Jones shares her thoughts each week on the latest releases.
Stephanie has a BA (Hons) in history and English literature, and a background in journalism, magazine publishing, public relations and corporate and consumer communications.
Stephanie is a contributor to the New Zealand Book Council's 'Talking Books' podcast series (listen here), and a member of the 2016 Ngaio Marsh Award judging panel. She can be found on Twitter @ParsingThePage.

Take your Radio, Podcasts and Music with you