Stephanie Jones Book Review: The Vanishing Act
Publish Date

Thursday, 21 June 2018, 10:00AM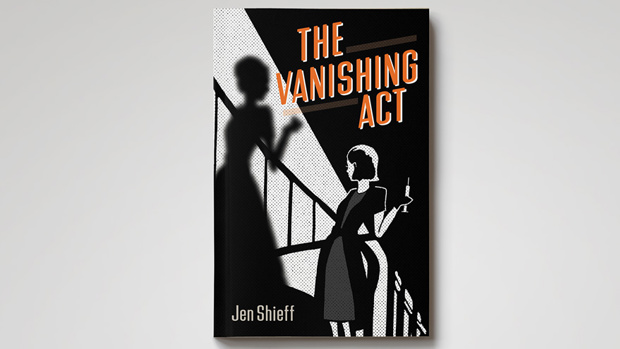 Take an Agatha Christie-style mystery, add transgressive women, a pair of amoral men, a philanthropic brothel owner, a pinch of lust and not much caution, and you have Jen Shieff's blackly comedic sophomore novel, The Vanishing Act. The mostly linear structure is aligned with a murder: in the first part, local doctor George Abercrombie is found dead under foliage on Mt Eden; part two shows how he died; and in the third and fourth acts, all the strands are pulled together to reveal whodunit, and why.
All you need to know about the doctor is that he wasn't good, and he had it coming – between his philandering, his practice of secretly photographing his female patients, and his collusion in financial malfeasance, there are plenty of suspects with a healthy motive, starting with the long-suffering Virginia Abercrombie. The betrayed wife wanders into the frame only occasionally, however; the story centres on two other women, recent British expat Rosemary Cawley, a lecturer at Elam, and Judith Curran, an art tutor who is in a long-term but conspicuously uncommitted relationship with Istvan Ziegler.
Istvan, a migrant from Hungary who happens upon the Abercrombie corpse on one of his regular walks, is the general handyman for Rita Saunders, whose "gentlemen's club" in Epsom competes with one operated by Bee Digby, whose new next-door neighbour is Rosemary Cawley . . .
You get the drift. If the wit and lit were stripped away, The Vanishing Act might read like a game of Cluedo, but Shieff has an impressive command of character and story and knows how to infuse both with the right amount of pathos: Rita is grieving the loss of her lover; Rosemary left scandal, tragedy and familial estrangement behind in England; the affair between Rosemary and Judith may not be given the chance to become love.
The story is set in mid-1960s Auckland, but Shieff could have pushed the setting back a century without having to change much about her characters or their conduct (which says more about the glacial pace of progress in 20th-century New Zealand than anything else), and if the odd snatch of dialogue reads as anachronistic – "you wench" – I'm inclined to trust Shieff's diligent research.
It's a bit trite to characterise The Vanishing Act as a feminist novel – above all, it's a thoroughly enjoyable mystery-dramedy, and many readers will enjoy it simply for its more superficial pleasures – but in the #MeToo era it's impossible to overlook the meaningful representation of women as sexually and fiscally empowered and unified against the crimes of men. Shieff started work on this book years before the New York Times and The New Yorker finally outed Harvey Weinstein, but his spiritual predecessors are the awful George Abercrombie and the enabler Alistair Dunstan, and even in fiction, it's satisfying to see the bad guys get put down.
To be in to win a copy of The Vanishing Act click here.
Every week Stephanie reviews the Book of the Week.
As the Coast book reviewer, Stephanie Jones shares her thoughts each week on the latest releases.
Stephanie has a BA (Hons) in history and English literature, and a background in journalism, magazine publishing, public relations and corporate and consumer communications.
Stephanie is a contributor to the New Zealand Book Council's 'Talking Books' podcast series (listen here), and a member of the 2016 Ngaio Marsh Award judging panel. She can be found on Twitter @ParsingThePage.

Take your Radio, Podcasts and Music with you