Stephanie Jones Book Review: The Wisdom of Sally Red Shoes
Publish Date

Monday, 4 June 2018, 12:20PM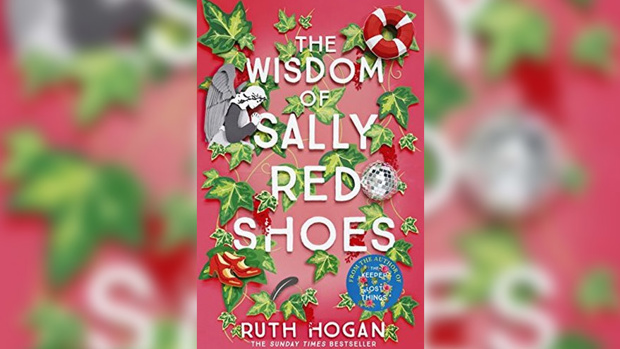 How can a novel about bereaved mothers be simultaneously amusing and uplifting? By, as Ruth Hogan does, placing an affectionately profane woman at its conceptual centre. The titular figure in The Wisdom of Sally Red Shoes is a "small tatterdemalion" pensioner Masha encounters on her regular walks with her wolfhound. Sally wears red Mary Janes – the inspiration for Masha's private nickname – feeds the local murder of crows, and uses expletives as greetings, not impolitely but obliviously, "as though the dictionary in her brain has been scrambled, and all the words and their meanings have become mismatched."
Likewise out of kilter is Masha's life, which warped upon the death of her young son, Gabriel. She maintains no delusions about the event, which never escapes her: "My beloved boy died twelve years, seven months and eleven days ago and it was my fault." Perhaps partly as self-flagellation and partly comfort – she can be reminded she is not the only parent ever to grieve – her walks with Sally Red Shoes take her to "visit the children" in a cemetery, where she confronts her guilt and invents stories about how the dead lived. On other occasions she goes to a public pool to simulate the manner of her son's death. (Recorded in a review, the novel sounds depressing, but Hogan's style is more Marian Keyes than Lionel Shriver.)
The third woman in the story is Alice, whose son Mattie is alive and thriving. But she lost children before him, and as he grows he becomes more aware that she is over-protective and smothering.
Hogan most closely tracks the wanderings of Masha, who trained as a psychotherapist after her son's death and is keenly observant of change and avoidance. On visiting her parents, she notices that three photos of Gabriel, once prominently displayed, have been moved to a shady corner of the sitting room: "There are lots of things we don't talk about now."

Fortunately, levity comes in the form of a well-drawn, energetic supporting cast that revolves around Masha's friend Epiphany – who gave her the nickname Masha from Chekhov's The Seagull; identity shifting is a conspicuous theme – and lands in settings such as The Cock and Curtain, a pub that is "a heady blend of Victorian brothel and music-hall dressing room." Their friend Edward stepped in as Gabriel's father when her unplanned pregnancy led to singledom, and Edward and Masha have always protected one another by refusing to discuss their devastation.
The great curiosity of the novel is how, or whether, Masha and Alice might turn out to be connected; two parallel narratives in the same timeframe rarely fail to marry somehow. Some will see the conclusion coming, though Hogan, refreshingly, respects the reader's intelligence. Those who have experienced the horror of child bereavement are strongly cautioned; all others, should they have a taste for a certain directness laced with wit and charm, may well find The Wisdom of Sally Red Shoes meets the brief.
To be in to win a copy of The Wisdom of Sally Red Shoes click here.
Every week Stephanie reviews the Book of the Week.
As the Coast book reviewer, Stephanie Jones shares her thoughts each week on the latest releases.
Stephanie has a BA (Hons) in history and English literature, and a background in journalism, magazine publishing, public relations and corporate and consumer communications.
Stephanie is a contributor to the New Zealand Book Council's 'Talking Books' podcast series (listen here), and a member of the 2016 Ngaio Marsh Award judging panel. She can be found on Twitter @ParsingThePage.

Take your Radio, Podcasts and Music with you