Stephanie Jones Book Review - The Wrong Child
Publish Date

Thursday, 9 November 2017, 3:58PM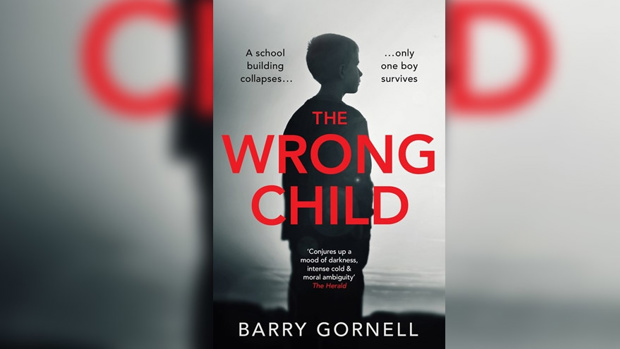 Author

By Stephanie Jones
The concept of survivor's guilt lacks a corollary notion: one that elucidates the conviction among witnesses to a tragedy that the wrong people lived. Barry Gornell's powerfully discomforting The Wrong Child peers darkly into a small UK village where 21 children are killed when a school building collapses, and the sole survivor, a boy named Dog Evans, is regarded by all as unjustifiably alive.
The novel expands as a curtain is pulled back on the citizens, revealing them as they lived before the calamity and then, seven years after, as they exact a collective vengeance upon the figure of Dog Evans. It's not quite revenge, though; as Gornell's third act will reveal to the reader, there is something important about how their children were lost that they will never know.
At first, we are encouraged to feel pity for Dog Evans (who is referred to only by his full name, the explanation of his nickname coming much later). He gazes upon the 21 trees planted in remembrance of his lost classmates and wants to be one of them. His "strange doll-like features had driven away all but the most determined", and his peculiar mix of charisma and otherness compels his classmates but offends – even frightens – adults, including his parents Shep and Rebecca.
He is an only child, much wanted but then feared, even as an infant, by Rebecca, who is convinced his violent breastfeeding is a deliberate act of cruelty. In a final reckoning with the village priest, Father Wittin, she will confess that her prayers about her son were answered two times: with his conception and with his death.
Gornell ably explores the stores and streets and homes of the village, presenting a hellish before-and-after tableau that, perversely, can only leavened by more loss. Even before the disaster, death takes its customary hold on young imaginations, as several of the children make a ceremonial burial of a bird they find frozen on the ground. Fantasies of patricide and matricide are seeded when young Jonny Raffique, who moved from Sausalito with his mother, speaks to his classmates of killing his father so they can return to the California warmth. The classmates, a pair of brothers, ponder a mercy killing of their mother, who is ailing from a degenerative disease.
As the novel begins the children are already ghosts, and it's Gornell's tiny crystallisations of adult grief that rend the heart, such as the exchange between the local grocer and a customer about the small gestures they make to keep their lost children with them. On the face of it, Rebecca is indefensible – until the reasons for her revulsion are revealed.
Gornell packs a great deal into The Wrong Child's spare, 260-page span, which makes it easy to forgive the occasional overdone metaphor, notably fire as an agent of destruction and rebirth and the depiction of another bereaved parent, local policeman John Cutter, as a literal cutter, who habitually hacks at his own thigh with a gouge.
The story of Dog Evans will recall for some readers the antihero of Lionel Shriver's We Need to Talk About Kevin, and the two mothers of these novels have common feelings of fear, disgust and self-recrimination. In this delicately paced horror story, Dog Evans is a terrifyingly wrong child.
To get in the draw to win one of five copies of The Wrong Child click here.
Every week Stephanie reviews the Book of the Week.
As the Coast book reviewer, Stephanie Jones shares her thoughts each week on the latest releases.
Stephanie has a BA (Hons) in history and English literature, and a background in journalism, magazine publishing, public relations and corporate and consumer communications.
Stephanie is a contributor to the New Zealand Book Council's 'Talking Books' podcast series (listen here), and a member of the 2016 Ngaio Marsh Award judging panel. She can be found on Twitter @ParsingThePage.

Take your Radio, Podcasts and Music with you