Stephanie Jones: Book Review - This Is How It Always Is by Laurie Frankle
Publish Date

Friday, 3 March 2017, 12:06PM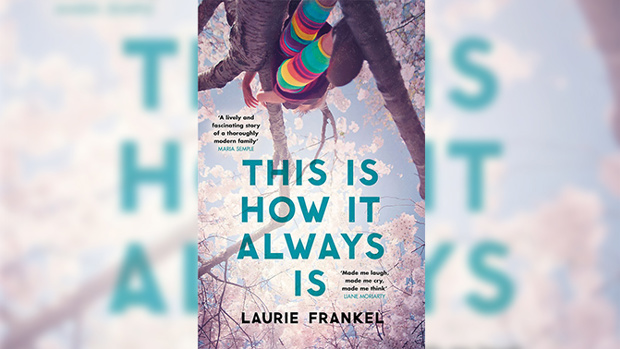 Author

By Stephanie Jones
Rosie Walsh, ER doctor, mother to four sons and wife to a novelist, dreams of having a little girl, to be named Poppy after the sister Rosie lost to cancer as a child. The baby arrives a boy, Claude, but the story of how Rosie nevertheless gets her wish is Laurie Frankel's droll, tender and surprising This Is How It Always Is.
Precocious Claude crawls at six months, walks at nine, and demands to go to preschool in a dress at age three. But he learns from his worried parents and one oblivious teacher – and more harshly, from the gun-wielding father of a classmate who responds to Claude's gender nonconformity as a mujahid to a bikini – that he must present as a boy at school and wear what he calls his "real" clothes (dresses, barrettes, clip-on earrings) only in the safe domain of home.
The father's reaction is an extreme version of preschool officialdom, which dictates that "a child can only be a he or a she, a boy or a girl. Kindergartens are not set up for ambiguity."
Rosie and Penn are a close couple who thrive on the chaos of a full and happy household, but they are surprisingly slow to voice to one another what they are seeing in Claude. After the gun incident and Rosie's hospital encounter with a savagely beaten trans patient, they move their children from conservative Madison, Wisconsin to Seattle, a city "so far past tolerant" that acupuncturists, nutritionists and yoga studios market themselves as trans friendly.
There the family lives as it always has, except that the youngest child is introduced to one and all as Poppy, a five-year-old whose cheery, open nature reaps popularity at school and three particularly close girlfriends. But the truth will out, as repetitive foreshadowing reminds us, and a conspiracy of silence which embroils four adolescent boys would seem to be fatally flawed. Rosie and Penn's elaborate efforts to shield Poppy by redefining as dangerous such innocuous things as sleepovers – which might entail changing into nightwear in front of friends – risk awakening shame in a child who as yet feels no such emotion about living as a girl.
From Frankel's crystalline perspective and sly wit comes a profound message: a binary definition of sex and gender is obsolete, its incorrectness something even a child can prove. Larger ethical issues are canvassed in Rosie and Penn's debate about how to manage Poppy's impending puberty – let it happen or quash it with chemical suppressants, and what then of her social and psychosexual development? The cost of error is too terrible to voice: gender diverse youth are at vastly higher risk of self-harm and suicide than their cisgender peers.
Perversely, a therapist advises that there is value to be found in suffering, and the family's unconditional embrace of Poppy's personhood may only make her coming out more difficult.
The defects in the American mass psychology of sex and gender are amplified by Rosie and Claude's life-changing trip to Thailand, a contrivance forgivable for how it educates mother and child, who become close to a kathoey, a member of a queer community widely accepted in Thai culture.
This Is How It Always Is describes, with empathy and frankness, the happy business of making a baby and then, beneath society's pitiless gaze, the sculpture of the infant from unwieldy clay into a clear-cut human able to function peaceably in a world which may lack a mould for their form.
Every week Stephanie reviews the Book of the Week.
As the Coast book reviewer, Stephanie Jones shares her thoughts each week on the latest releases.
Stephanie has a BA (Hons) in history and English literature, and a background in journalism, magazine publishing, public relations and corporate and consumer communications.
Stephanie is a contributor to the New Zealand Book Council's 'Talking Books' podcast series (listen here), and a member of the 2016 Ngaio Marsh Award judging panel. She can be found on Twitter @ParsingThePage.

Take your Radio, Podcasts and Music with you