Stephanie Jones Book Review: Winged Helmet, White Horse
Publish Date

Monday, 10 December 2018, 8:23AM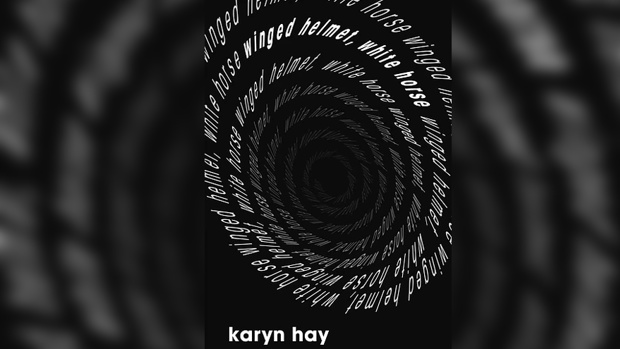 In an ecstatically confessional recent column in the Listener, Karyn Hay wrote that the process of completing Winged Helmet, White Horse "nearly killed me", though she alludes to a darker torture than the poor typist's posture that left her with RSI. Take it from the, er, horse's mouth: This is a novel "about illusion and who is really pulling the strings. It's been a long time in the making, having sat on the shelf like an unfinished piece of knitting, slowly going out of fashion."
It's that weird, quasi-supernatural alchemy that governs time, bonding author to zeitgeist and midwifing the most interesting, provocative and au courant novels. Winged Helmet, White Horse might have maimed Hay, but she's still standing; by the tale's end, the same cannot be said of all its characters, which, in just one example of the novel's sublime tonal discordances, makes for a hopeful, life-affirming finale.
In fact, Tim, who is presented within the framework of a fable as the hero of his own story, becomes steadily cheerier as his life unravels before him. He is a poet working for a hire company and living in London with his wife, Natasha, and their redoubtable three-year-old, Marigold, whose refusal to countenance toilet training compounds her parents' swelling mutual antipathy.
Natasha veers between obsessively calculating whether to sacrifice the life insurance premium to buy new shoes for her best frenemy's birthday party and hissing at Tim for leaving the rubbish out too long in the baking heat of high summer. When not pondering footwear, she wonders how to fund a new Range Rover or Jeep to look "effortlessly chic" at school drop-off.
Tim, cognizant of but not overly dismayed by his wife's aimless hostility, has secretly joined AA, his literary shortcomings and the success of a peer having driven him to besotted self-pity: "Natasha was right. He was an idiot. A sad man, full of sperm, who used to like a drink. Who still did, who still would, if there was any way around it."
Later, when he falls off the wagon, Tim has so endeared himself to Hay's audience, if not his own circle, that the reader wants to fling out a lifebuoy and haul him to safety. No such sentiment is spared for Natasha or her awful friend, Claire, whose hilarious bossing of her nanny is standard behaviour inside the strapped, sleazy middle-class caste to which the women belong. As a collective the characters are unlikeable but not detestable, and uncomfortably familiar; their flaws are ours, from their pointless marital bickering to insincere compliments and unspoken competitiveness.
It's a satire and a tragedy, reminiscent of Maria Semple in its who-the-hell-did-I-marry lurch from one day to the next, and with shades of Martin Amis (though blessedly minus the smugness), whose take on this braying London set would have been similarly pointed but loaded with literary references and not nearly as funny. Instead we have a view of the city that I suspect was informed by Hay's years as a resident (and if the lengthy passages addressing Marigold's ablutionary travails are not the product of excruciating personal experience, Hay has an imagination to rival Tolkien's).
In place and time and mood, Winged Helmet, White Horse is a literal world away from the author's splendid sophomore novel, The March of the Foxgloves, but it is just as seductive, and even richer in wit and its determined excoriation of self-absorption. Then as now, no one gets away with anything.
To be in to win a copy of Winged Helmet, White Horse click here.
Every week Stephanie reviews the Book of the Week.
As the Coast book reviewer, Stephanie Jones shares her thoughts each week on the latest releases.
Stephanie has a BA (Hons) in history and English literature, and a background in journalism, magazine publishing, public relations and corporate and consumer communications.
Stephanie is a contributor to the New Zealand Book Council's 'Talking Books' podcast series (listen here), and a member of the 2016 Ngaio Marsh Award judging panel. She can be found on Twitter @ParsingThePage.

Take your Radio, Podcasts and Music with you