Allyson Gofton - A trifling matter
Publish Date

Wednesday, 23 December 2015, 3:54PM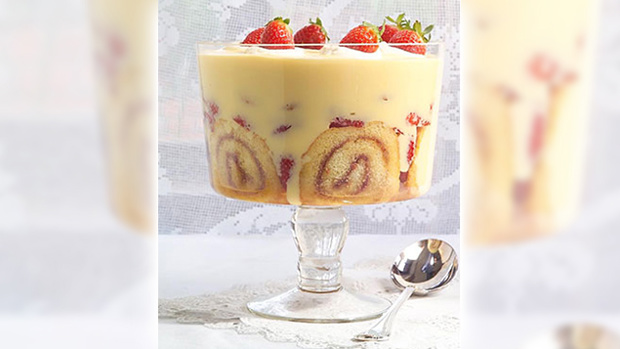 Author

By Allyson Gofton
Trifles, which have been made for centuries, are a quintessential item on the down under Christmastime menus.  The origins of the word trifle  are French and mean something of little importance. Not fair really, given this dessert is fairly popular in summer. This week's recipe makes use of left over Christmas Pudding in the trifle, summer fruits and easy to use bought custard.

Recipe:
Classic Sherry Trifle (Pictured)
Homemade custard will make the best trifle. Do go to the effort for this classic version.

Serves: 6

Ingredients:
280 gram sponge roll
¼ cup sweet sherry
¼ cup freshly squeezed orange juice
2 chips strawberries, hulled and halved
125 gram packet Amaretti biscuits, crushed

Egg Custard:
2 cups milk
½ cup cream
1 tsp vanilla essence
2 tblsp cornflour
4 egg yolks
1/4 cup caster sugar

Method:
Prepare the custard. Heat the milk in a medium sized saucepan. In a small bowl, combine the cream, vanilla, cornflour, egg yolks and caster sugar, beat together lightly with a wooden spoon. Pour the hot milk over the cream mixture and stir well to combine. Return the mixture to the saucepan.
Heat the custard gently, do not boil and stir continuously until the custard thickens. Remove from the heat and allow to cool.
Cut the sponge roll into 1 - 1.5cm slices, arrange in the base and sides of a glass, serving bowl. Combine the sherry and orange juice and spoon over the sponge.
Reserve a few strawberries for decoration, arrange the remaining berries over the sponge and scatter over the Amaretti biscuits. Spoon the cool custard over the fruit, cover and chill for 1-2 hours. Decorate the trifle with the remaining strawberries and whipped cream if wished.


Cooks Tips:
In place of Amaretti biscuits, use a well-drained, 400gram can of sliced peaches or apricot halves.

Recipe:
New Year Trifles
This is a great dessert to use up that left over Christmas Pudding.
Cooking Time: 15 minutes, plus 1 hour chilling time.

Ingredients:
1 cup leftover Christmas cake or pudding, finely diced or crumbled
3 oranges, peeled and cut into segments
3-4 tblsp orange liqueur or Sherry
600 ml carton pre-made custard
½ cup whipped cream

Method:
Arrange the Christmas cake in the base of 6 individual glasses, top evenly with orange segments. Spoon over liqueur or sherry.
Pour over custard, refrigerate until ready to serve.
Decorate with whipped cream and shreds of orange zest.


Cooks Tips:
Use diced mangoes, pawpaw, apricots or other favourite summer fruits.
Take your Radio, Podcasts and Music with you