Allyson Gofton - Antipasto Salad
Publish Date

Friday, 26 December 2014, 2:47PM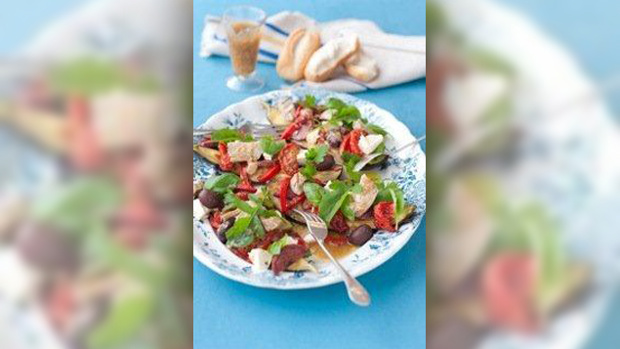 Author

By Allyson Gofton
Roasting garlic bulbs:
Drizzle garlic bulbs with oil, wrap securely in foil and bake at 180ºC for 35-45 minutes or until a skewer can be inserted easily into the centre of the bulb. Keep in an airtight ceramic dish in the refrigerator. Avoid plastic; the flavour will permeate through the plastic.

Use roasted garlic to jazz up:
Smashed potatoes, seasoned with fresh thyme.
Beef or lamb casseroles, simmered in red wine.
Mixed into a raita or hummus, homemade or bought.

Char-grilling peppers
Cut peppers in half and place cut side down on a foil-lined tray. Grill (or fan grill) under a high heat until well-blackened. Remove and wrap loosely in the foil to sweat and cool. Peel away the skin. Do not peel under running water as this will wash much of the flavour away. Keep peppers refrigerated in an airtight container under a layer of oil.

Olive oil
Keep quality olive oils in a stoppered bottle, away from sunlight and heat, not on a window ledge or near a hot oven or hob top which can cause the oil to turn rancid. Extra virgin or virgin olive oils are always prepared from cold pressed olives, literally squashed under pressure releasing virginal juices and oil. Each variety will have it' sown nuances.

Artichokes
Related to the thistle, the heart of this unusual flower comes fresh for you to prepare and cook or, as I prefer to buy them, cooked and preserved in brine, oil or a mix of both and plain or roasted. Their delicate but sociable flavour can easily be over powered in gusty sauces so be kind to this pantry product. Price will often be the best indicator of quality and once the jar is opened, keep them refrigerated but do serve at room temperature or their, slight flavours cannot be savoured under the chill.

Use artichokes to jazz up:
Pasta salads, great with smoked fish and herbs.
Kebabs, skewer with garlicky marinated lamb and bbq.
Oven-baked chicken breasts, scatter around with olives and pinenuts, drizzle with oil and bake.


Recipe:
Antipasto Salad
Create a luscious salad from those forever popular antipasto ingredients, like artichokes, olives and sundried tomatoes. Once arranged on a platter atop baked aubergines, set the salad aside for 10 -20 minutes - while you have a vino - to allow all the flavours to intermingle.

Preparation Time: 15 minutes
Cooking Time: 25 minutes
Serves: 4

Ingredients:
2 medium-sized aubergines, trimmed
¼ cup olive oil
100-150 grams salami, thickly sliced
1 chargrilled red pepper, sliced
½ cup black olives
½ cup sundried tomatoes, halved
125 grams feta cheese, diced
½ cup fresh basil leaves, torn
½ cup fresh parsley or rocket leaves
4 artichoke hearts, quartered (optional) 

Roasted garlic dressing:
1 bulb garlic, roasted
¾ cup vinaigrette – your favourite

Method:
Preheat the oven to 190ºC fan bake or 200ºC bake. Line a baking tray with foil.


Cut the aubergines lengthwise into quarters and brush the cut surfaces using half the oil. Place on the prepared tray and bake in the preheated oven for 20-25 minutes until tender and lightly-browned. Cool.


Cook the salami in the remaining oil in a frying pan until crisp; cool. Toss together the salami and any oil from the pan with the pepper, olives, tomatoes, feta, basil, parsley and artichokes if using.


Place the roasted aubergines on a large platter. Scatter over the salad mixture and drizzle with the roasted garlic dressing. Garnish with toasted pine nuts if wished.

Roast Garlic Dressing:
Cut the garlic bulb in half, squeeze out the pulp and whisk into the vinaigrette.
Take your Radio, Podcasts and Music with you