Allyson Gofton - Artichoke And Mozzarella Chicken
Publish Date

Thursday, 20 October 2016, 12:37PM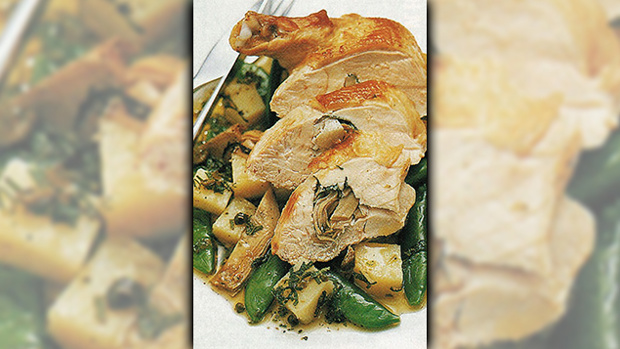 Author

By Allyson Gofton
Whole preserved artichokes are baby artichokes, first cooked in acidulated water and then preserved under oil which may or may not be flavoured, and on occasions may be pre-char-grilled before bottling; they are delicious. Their mild flavour works well with mozzarella, green peas – especially freshly podded and steamed peas in a spring salad. Canned artichoke bases can be substituted , though in this recipe, they will need to be thickly sliced.
Recipe:
Artichoke And Sage Seasoned Pan Seared Chicken
Scented olive oil add a delicate flavour where used and this combination with sugar snap peas and new season waxy potatoes is ideal for a dinner with friends.
Prep Time: 15 minutes
Cooking Time: 25 minutes
Serves: 4
Ingredients:
1 whole chicken or 4 chicken pieces
4 roasted artichoke quarters
8 baby sage leaves
Freshly ground black pepper
2-3 tblsp lemon scented olive oil

Salad:
500 grams waxy potatoes, peeled and diced
150 grams sugar snap peas
4 roasted artichoke quarters, sliced
1/4 tblsp lemon scented olive oil
1 tblsp lemon juice or wine vinegar
1 tblsp chopped capers
2 tblsp sliced fresh sage leaves

Method:
Cut the chicken in quarters if it is whole. Cut a pocket in the thickest side of the chicken breast. In the chicken leg and thigh portions, cut the bone out of the thigh portion only.
Season the pockets with pepper and add slices of artichokes and 2 sages leaves to each portion. Secure the opening with a skewer.
Heat the oil in an oven-proof frying pan and gently brown the chicken pieces on both sides. Transfer to a 180 degrees Celsius for 25 minutes or until just tender.
Cook potatoes in boiling salted water until tender and drain. Blanch sugar snap peas. In a bowl toss together the potatoes, peas, artichokes, olive oil, lemon juice, capers and sage. Season well with salt and pepper.
Serve the chicken on equal portions of salad.

Cooks Tips:
If you do not have lemon scented olive oil use good quality olive oil. - You can buy roasted bottled artichokes in most good supermarkets. - If you are not keen on artichokes, use sundried tomatoes or red peppers.
Take your Radio, Podcasts and Music with you