Allyson Gofton - Balinese Salmon Kebabs
Publish Date

Thursday, 30 March 2017, 12:52PM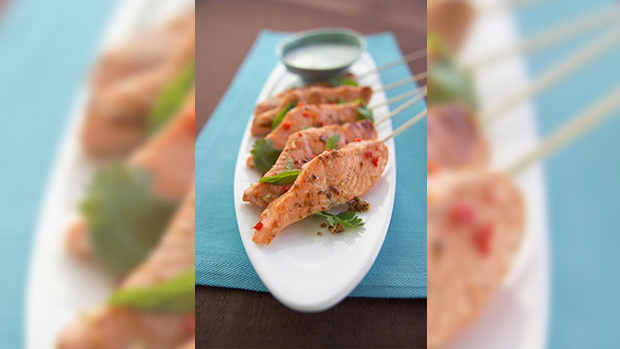 Author

By Allyson Gofton
When marinating fish, choose one that has a robust flavour such as salmon or tuna.

Oily fish varieties and, or, firm-fleshed varieties are best as they will absorb the flavours well and cook without falling to pieces.

In addition as most marinades contain an acidic ingredient such as lemon juice which has the ability to cook fish – think ceviche, these varieties will cope better, being able to tolerate the marinade better than say, Sole.

For salmon to be moist, cook only to medium.
Recipe
This salmon is perfect with a glass of bubbles.
Ingredients
500 gram piece salmon, skinned
1/4 cup fresh lime juice
3 tsp minced fresh garlic
2 coriander roots, finely chopped
2 tblsp coconut milk
1 tblsp grated palm sugar
1 tblsp fish sauce
1/2 tsp ground white pepper
Coconut and Mint Dipping Sauce
1/2 cup thick Greek-style yoghurt
1/4 cup coconut milk or lite coconut milk
1 tblsp grated palm sugar
1 tblsp finely chopped mint
Method
Use tweezers to remove the pin bones from the salmon if not already done. Cut the fish crosswise into 1 cm thick strips.
Mix together the lime juice, garlic, coriander root, coconut milk palm sugar, fish sauce and white pepper in a resealable bag or in a small bowl. Add the salmon strips and toss gently in the marinade. Cover and leave at room temperature for 30 minutes. Do not marinate any longer or the lime juice will "cook" the fish.
Remove the fish from the marinade and pat dry on paper towels. Pierce the fish fingers with bamboo skewers.
Pan fry on a lightly oiled barbecue or hot grill pan for about 1-2 minutes each side. Do not over-cook the salmon or it becomes dry. Serve with the Coconut and Mint Dipping Sauce.
Coconut and Mint Dipping Sauce
Mix all ingredients together.
Cooks Tips
For this recipe buy the piece of fillet from the thick end, not the tail end. Ask for the fish to be skinned.
Take your Radio, Podcasts and Music with you