Allyson Gofton - Blackcurrant Vol-au-Vents
Publish Date

Friday, 8 December 2017, 11:28AM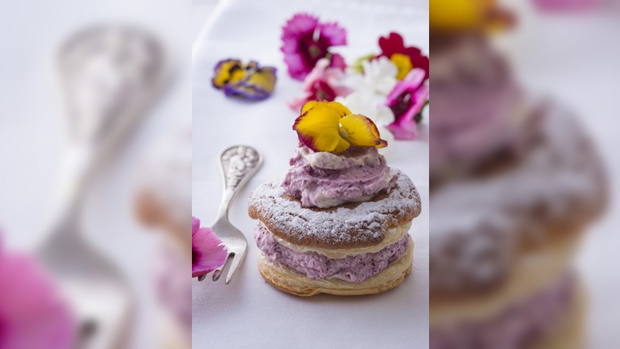 Author

By Allyson Gofton
A delightful summer sweet treat, which you can begin making a few days ahead of time . A rim of almond paste is piped around circles of butter puff pastry, baked until golden, split and filled with white chocolate, sweetened mascarpone cream filling, scented with blackcurrants, raspberries or blueberries.
Ingredients
Vol-au-Vents
400 grams butter puff pastry, defosted if frozen
200 grams marzipan
6 tablsepoons icing sugar, sifted
1/4 cup flour
1 egg white
Filling
1 egg yolk
3 tablespoons caster sugar
1/2 teaspoon vanilla essence
250-400 grams mascaarpone
1/2 cup grated white chcololate
1-2 punnets of your favourite summer berries or black or red currants
edible flowers to decorate, optional
Method
Preheat the oven to 190°C. Grease one or two baking trays or line with baking paper.
Cut 20, 5-6cm circles from the pastry sheets and place on the prepared tray, re-rolling the pastry if required (see tips). Prick the bases with a fork. Work together the marzipan, icing sugar, flour and egg white. Fill a piping bag, fitted with a small fluted nozzle, with the mixture and pipe around the edges of the pastry circles. Alternatively, spread with a knife or drop tiny spoonfuls around the edges. Use the tines of a fork to prick the centre of the circles to allow the steam to escape during cooking.
Bake in the preheated oven for 12-15 minutes or until the pastry is well-risen and golden. Transfer to a cake rack to cool. If not planning to use on the day, store in an airtight container, where they will keep well for a week.
Whip the egg yolk, caster sugar and vanilla together until thick and fold into the mascarpone. Split the pastry vol-au-vents in half and spread a little of the cream on top of the bases, cover with the remaininng, almond paste-ringed pastry top and fill the top with more of the rich cream and top with fresh fruit. Do not fill too early as the pastry will become soggy - about an hour in advance.
Cooks Tips
The rich cream filling can be enhanced - as in the picture here - if you add a few pinches of freeze-dried blackcurrant powder to the cream. It dissolves into the cream adding colour and a wonderful taste. Freeze-dried powders, sweet, savoury and herbs, are availale from Fresh As, at good food shops and some supermarkets and, while expensive, only a little is needed.
When re-rolling puff pastry, to help keep the pastry in layers when it cooks, layer the uneven pieces on top of each other to re-roll. Do not knead the pieces together, as the resulting pastry will be hard to cook properly, remaining tough and uncooked in parts.
Take your Radio, Podcasts and Music with you