Allyson Gofton - Boston Baked Beans
Publish Date

Friday, 8 July 2016, 12:15PM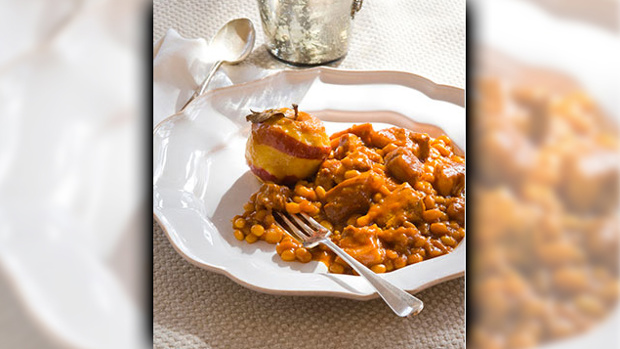 Author

By Allyson Gofton
Boston baked beans, rich, hearty, flavoursome and easy hail from New England. It was a popular dish, enjoyed on the Sabbath by the Puritan settlers of New England. Today's versions can be much fancier, but nonetheless it's a great winter dish. Do not be put off because of having to pre-soak dried beans overnight and then cook. Once soaked, beans can be left to cook in a slow cooker. Soaked but uncooked beans can be frozen for cooking later, as can plain cooked beans, which can then be added to stews and soups when required.
Only salt after cooking as salty cooking water will slow the cooking time down and may cause the outer skins of the beans to be tough. The same applies to cooking beans in acidic ingredients such as tomatoes – add these at the end of cooking time.
Recipe:
Boston Baked Beans (slow cooker method)
Well, this recipe may not strictly be vegetarian, but you can always leave out the pork belly and bacon rashers and it will still taste delicious. The beans only get better if prepared a day in advance and reheated, and the sweetness and lightness of baked apple is a good foil for the chunky, gutsy flavoured beans. This dish is one of my home's all-time favourites.


Prep Time: Soaking time 10-12 hours, preparation time 30 minutes
Cooking Time: Low 10-12 hours, high 6-8 hours
Serves: 6-8

Ingredients:
1½ cups dried cannellini or navy beans
6-7 pork belly slices
4-6 rashers of bacon, diced
2 medium-sized onions, peeled and finely diced
6-8 cloves garlic, crushed, peeled and sliced
3 cups chicken or vegetable stock
400 gram can condensed tomato soup
2 tablespoons Worcestershire sauce
2 tablespoons golden syrup
2 tablespoons dark brown or muscovado sugar
1 tablespoon prepared mustard
1 tablespoon curry powder

Method:
Cover the cannellini or navy beans with plenty of water, cover and set aside for 10-12 hours. They require covering in 3-4 times the amount of water to beans.
Turn the slow cooker on to low to pre-warm while gathering and preparing the ingredients.
Cut the pork belly slices in 1-cm wide pices.
Heat a dash of oil in a frying pan and brown the pork and bacon well. This will be best done in batches. Set the pork and bacon aside. Cook the onions until well browned, but not burnt. Add the garlic and cook, stirring constantly for an extra 1-2 minutes.
Drain the beans well.
Into the pre-warmed slow cooker put the beans, pork, bacon, onions, garlic, stock or water, tomato soup, Worcestershire sauce, golden syrup, sugar, mustard and curry powder. Stir well to mix the ingredients evenly and cover with the lid.
Cook on low for 10-12 hours or on high for 6-8 hours, or until the beans are tender.
Season with salt, pepper and a dash of vinegar to add a little sharpness if wished.
Served accompanied by sweet mustard baked apples if wished.
Cook's Tips:
Cooking time will vary greatly depending on the variety of dried bean and how dried they are. - Regulate the heat of the beans by the type of mustard you use. For a real bit try Hot English, or for a mild taste try Dijon or American.
Take your Radio, Podcasts and Music with you