Allyson Gofton - Buckwheat Pancakes
Publish Date

Friday, 10 February 2017, 1:01PM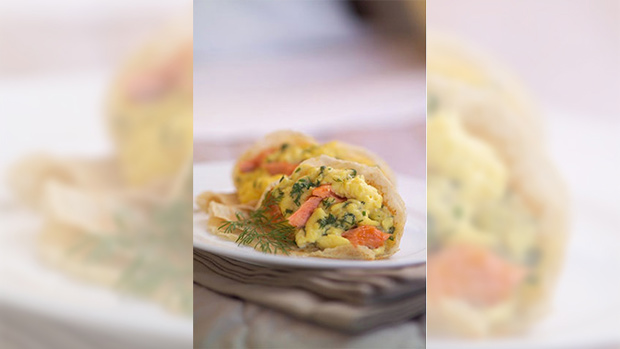 Author

By Allyson Gofton
Buckwheat is not a cereal like wheat or rye. It is the edible seed of a plant related to both rhubarb and sorrel and thus is gluten free. In France, buckwheat is used to make galettes, thin pancakes used to enclose a savoury filling. Often recipes for buckwheat pancakes or galettes include wheat flour which helps with the texture.
Use milk, water or milk and water to make the batter. Milk will ensure your, crepes or galettes brown when cooking, while water will make them slightly crispier though paler.
Making pancakes with buckwheat, gives them a deliciously nutty flavour. If you do not have any, use wholemeal flour in its place.
Ingredients
1/2 cup buckwheat flour
1/2 cup plain flour
1/2 tsp salt
1 egg
1 1/4 cups milk
butter for panfrying
Filling
8 eggs
1 cup cream
1 1/2 tblsp freshly chopped dill
200 grams hot smoked salmon, flaked
1 tblsp butter
Method
Sift the flour and salt into a bowl and make a well in the centre. Beat the egg and milk together and slowly pour into the flour, stirring with a wooden spoon to gradually incorporate. Once all the liquid has been added beat well. Strain into a jug, cover and stand for 30 minutes.
Heat a lightly greased 18cm frying or crepe pan. Pour in just enough batter to cover the pan, turning the pan to ensure a quick even coating of batter. Cook for 1 minute then flip and cook for a further minute. Transfer to a serving dish and repeat with remaining mixture.
Filling
In a bowl beat the eggs and cream together with a wire whisk. Season with dill and salt and pepper.
Melt the butter in a heavy based frying pan and pour in the egg mixture and cook slowly. As the eggs cook, stir gently and add the flaked salmon. Remove from the heat before completely cooked. The heat in the pan will finish the cooking.
Place a spoonful of scrambled egg on each pancake and fold into quarters to make cone shapes. Serve 2 to 3 pancakes per person. Serve warm.
Cooks Tips
Buckwheat is from the same family as rhubarb are sorrel. It is a good source of protein, thiamin, niacin, iron and magnesium. Keep the flour ina cool dry place. Buckwheat is used to make Soba noodles.
Take your Radio, Podcasts and Music with you