Allyson Gofton - Buttery Lemon and Walnut Loaf
Publish Date

Thursday, 27 July 2017, 12:20PM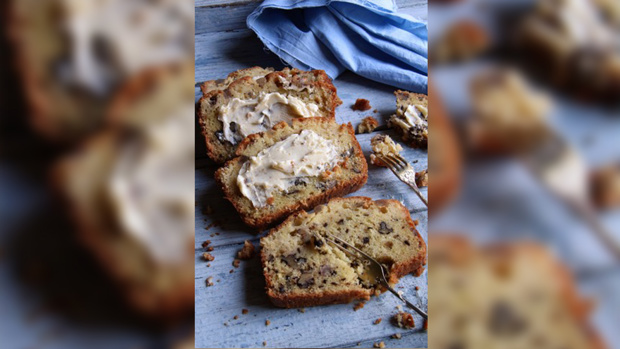 Author

By Allyson Gofton
You can decorate the loaf simply with a few walnut halves and a few slices of crystallised lemon rind if wished. For the most delicious sharp lemon flavour, use thick-skinned lemons.
Ingredients
250 grams unsalted butter, soft but not melted
1 cup caster sugar
1 teaspoon vanilla essence
4 eggs, at room temperature
grated rind 3 lemons
1 cup creme fraiche
2 cups flour
½ teaspoon baking powder
½ teaspoon baking soda
1 cup walnuts, chopped
Syrup
juice from 3 lemons
sugar
Method
Preheat the oven to 170ºC and place the oven rack in or below the centre. Grease and line the base and sides of a large (25cm x 10cm) loaf tin. The paper should come above the sides of the loaf tin by about 2.5cm.
Beat the butter and sugar and vanilla essence until the mixture is pale cream in colour and very light and fluffy in texture; an electric beater is best. Beat the eggs together and add a little at a time, beating into the creamed mixture, which should be voluminous. Stir in the lemon rind and crème fraiche.
Sift the flour, baking powder and soda together twice and fold carefully into the creamed mixture with the walnuts. Transfer to the prepared tin.
Bake in the preheated oven for about 60 minutes or until a cake skewer inserted into the centre comes out clean. Pierce the cake with a skewer and brush the syrup over the cake allowing enough time between each brush for the syrup to soak in. Cool in the tin for 20 minutes before turning out on to a cake rack to cool thoroughly.
Serve sliced and spread with a little extra butter if you feel like it.
Lemon Syrup
Squeeze the juice from the lemons and measure. Place in a saucepan with the same quantity of sugar. Warm over low heat until the sugar has dissolved.
Take your Radio, Podcasts and Music with you