Allyson Gofton - Chicken With Almonds And Saffron
Publish Date

Friday, 3 March 2017, 11:47AM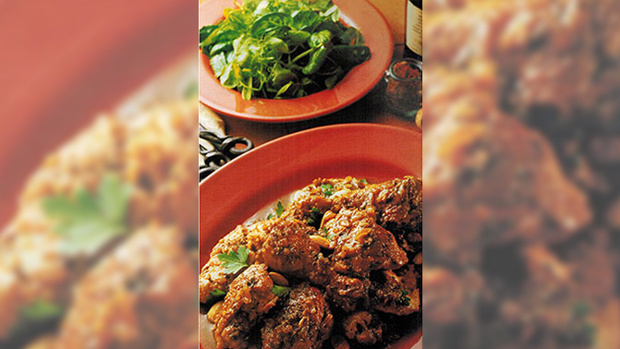 Author

By Allyson Gofton
Almonds are an important cash crop in Spain's southern Malaga Province in Andalucia, where some year's back I had the pleasure to visit.

Fresh nuts, regardless of kind, are simply delightful but sadly all too often, the product available to us is rancid. Buy nuts where there is a good turnover of stock and once home, keep them in the freezer to avoid the nuts becoming rancid. Nuts have a high oil content and thus in warm climates will go rancid quickly.

However, they are low in moisture content, which means you can take the nuts in and out of the freezer without loss of quality. I prefer to toast almonds before using as the flavour is enhanced.
Recipe
Ingredients
¼ tsp (about 8) saffron threads
1 cup hot chicken stock
6 tblsp oil (preferably olive)
¼ cup fresh white breadcrumbs
4 cloves garlic, peeled and finely chopped
¼ cup parsley sprigs
2 tblsp ground almonds
½ tsp ground cloves
1 tsp ground cinnamon
1 lemon grated rind and juice
1 medium or large chicken
1 onion, peeled and finely chopped
½ cup dry sherry
Method
Sprinkle the saffron over the hot stock and set aside.
Heat 4 tblsp oil in a lidded frying pan or heat-proof casserole. Add the bread and garlic and cook until the crumbs and garlic are toasted but not burnt. Transfer to a food processor.
Add the saffron and stock, parsley, almonds, spices, lemon juice and rind and process until smooth.
Joint the chicken into 8-10 even pieces. Heat the remaining oil in a lidded frying pan. Add chicken and brown evenly on all sides.
Add the onion and sherry and cook until the sherry has reduced by half. Add the almond paste and chicken stock and stir together gently.
Cover and simmer for 30-35 minutes, stirring occasionally, until the chicken is tender. Season with salt and pepper.
Take your Radio, Podcasts and Music with you