Allyson Gofton - Chilli Venison
Publish Date

Monday, 3 October 2016, 9:20AM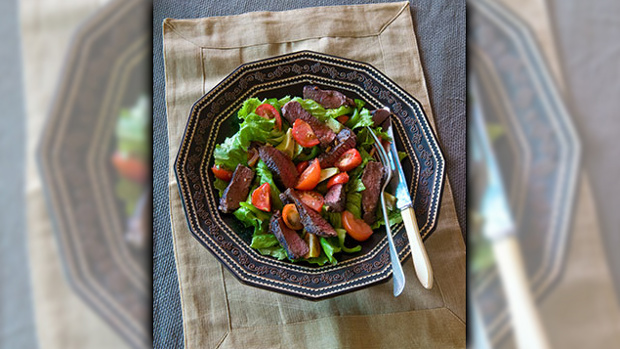 Author

By Allyson Gofton
Farm-raised venison, also known as Cervena, is now readily available pre-cut in medallions, steaks and mince and will partner a plethora of flavours. IT is lean and healthy and makes a delightful change from beef. However, its real bonus is the cooking time - it takes only a few minutes on a hot barbecue.


Recipe:
Chilli 'N' Garlic BBQ Venison Salad
Les Stowell cooked his favourite venison dish for us while touring with the Country Calendar cookbook.

Prep Time: 20 minutes
Cooking Time: 10 minutes, resting time 10 minutes
Serves: 6
Ingredients:
1 kilogram venison back steaks
About ¼ cup oil
1½ tablespoons peeled, chopped fresh garlic
Favourite salad ingredients for 6

Thai dressing:
3 tablespoons light soy sauce
2 tablespoons lemon juice
2 tablespons sweet chilli sauce
1 tablespoon manuka honey
2 teaspoons fish sauce

Method:
Arrange the venison in a deep dish. Pour over the oil and scatter over the garlic. Turn to coat, cover and set aside to marinate at room temperature for 15-20 minutes.
While marinating, put all the Thai dressing ingredients in a lidded jar and shake to combine. Set aside.
Heat the barbecue and, when sizzling hot, place the steaks onto the grill or hot plate. Cook on one side until beads of moisture comes to the top, about 2-3 minutes, depending on the thickness of the steaks. Turn the steaks over and cook for the same length of time. Transfer to a dish, cover and leave to rest for 10 minutes before carving.
Arrange the venison slices on a salad of your favourite ingredients and pour over the dressing and any juices collected while the venison was resting.

Cooks Tips:
Variation: Use beef steaks such as thick-cut sirloin, rump or Scotch fillet in place of venison.
Keep the garlic chunky to avoid it burning when cooking the venison.
Always allow the meat to rest before carving so that the juices can be absorbed into the meat fibres, creating juicy, tender meat when carved.
Take your Radio, Podcasts and Music with you