Allyson Gofton - Chocolate Tiramisu
Publish Date

Friday, 13 November 2015, 11:40AM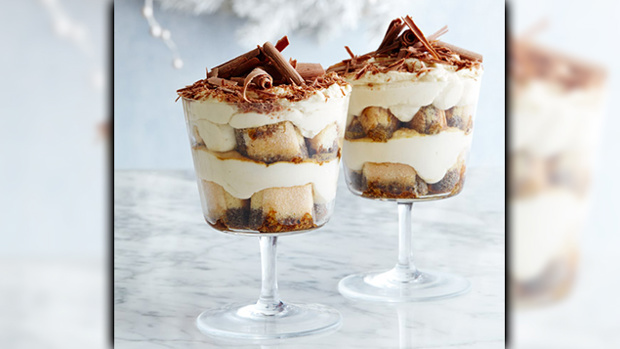 Author

By Allyson Gofton
Sponge finger biscuits are now readily available in supermarkets and with their long shelf life, are useful to have on hand to whip up this simple, yet elegant Tiramisu. It is a no cook dessert, whose finished looks suggest far more dash than dollars spent to achieve. The name according to legendary chef Anotonio Carluccio means 'pick me up'. This chocolate version will be all the better if you use the finest chocolate you can.


Recipe:
Chocolate Tiramisu
Use good quality chocolate to make this delicious variation of Tiramisu.

Ingredients:
2 tblsp coffee
¼ cup hot water
¼ cup rum
About 12 sponge finger biscuits
250 gram dark chocolate
3 eggs, separated
750 grams mascarpone
Pinch cream of tartar (optional)
¼ cup castor sugar
2 tblsp cocoa
¼ cup grated chocolate

Method:
Mix together the coffee, water and rum together. Cool. Dip the sponge finger biscuits into the coffee and use the biscuits to line the base of a 2 litre pudding bowl. Do not allow the biscuits to become too soaked.
Break the chocolate into even-sized pieces. Melt in the top of a double saucepan or place in heat-proof bowl and microwave 2-3 minutes until melted.
In a food processor, blend together the chocolate, egg yolks and mascarpone. (If you do not have a food processor do this with beaters).
In a clean bowl beat the egg whites with a pinch of cream of tartar until they are stiff but not dry. Gradually beat in the sugar until you make a soft meringue. Spoon the meringue over the mascarpone mixture in the food processor and pulse until the meringue is incorporated into the cheese. Do not over process.
Pour the mixture over the coffee coated sponge finger biscuits. Smooth the top out evenly. Sift the cocoa over the top of the mascarpone cheese and cover. Refrigerate over night.
To serve sprinkle the grated chocolate over the top of the cocoa and dust again with cocoa if wished. Serve with fresh seasonal fruit.
Cooks Tips:
Mascarpone is a buttery rich double to triple cream cheese. Look in the chiller cabinets where you find the sour creams and cream cheeses.
Take your Radio, Podcasts and Music with you