Allyson Gofton - Comforting Cauliflower
Publish Date

Thursday, 4 August 2016, 3:35PM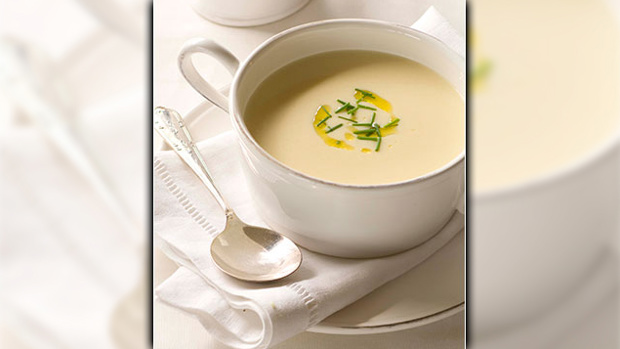 Author

By Allyson Gofton
Cauliflowers with their mass of tightly furled, un-opened buds have, culinary speaking, had nobler days in the food fashion limelight. In the days of backyard gardens, lovingly tended by the home owners who took pride in such chores, cauliflowers were a mainstay of the 'vege plot'. Having dropped off the popularity charts a few decades ago – loosing out to its verdant, rather sweeter-tasting and quicker cooking cousin broccoli – cauliflower is having a mini revival. As cauliflower , and for that matter broccoli , never reach nature's intention of flowering, the goodness that would have been used to create the bloom is held within the stems and the head, thus the cauliflower is packed with goodness , so make sure you eat the florets and stems too.
Recipe:
Cauliflower Soup With Lemon Oil And Chives
Lemon-infused olive oil adds a distinctive flavour to this soup.

Serves: 4

Ingredients:
50 grams butter
1 small onion, peeled and finely chopped
¼ cup flour
1 litre chicken stock
500 grams cauliflower, roughly chopped
¼ cup cream
4 tablespoons lemon infused olive oil
Chopped chives to garnish

Method:
Heat the butter in a large saucepan and cook the onion for 1-2 minutes until the onion begins to soften. Add the flour and cook, stirring, for an extra minute.
Gradually stir in the stock to make a smooth thin soup. Bring to the boil and add the cauliflower. Simmer gently for 15 minutes until the cauliflower is tender. Do not overcook or the cauliflower will taste horrid.
Sieve or puree the soup in a food processor. Return to the saucepan and add the cream. Season with salt and white pepper.
Serve in individual bowls garnished with 1 tablespoon lemon infused olive oil and a sprinkling of the chopped chives.
Take your Radio, Podcasts and Music with you